Archive for
Came across this Web site, which provides a search tool to let you come up with a comprehensive list of holiday and seasonal brews to be released this year in Oklahoma. Nothing gets you ready for Christmastime like beers with names like Snow Bound Winter Ale, Christmas Ale and Santa's Private Reserve. Sam Adams is putting out no less than four holiday releases — Winter Lager, Cranberry Lambic, Old Fezziwig Ale and Holiday Porter — in addition to the Chocolate Bock mentioned in this space earlier. It gives The Thirsty Beagle that warm and fuzzy feeling just thinking about it. Anyway, this is a neat site. It gives in-depth information about each of the beers and even provides suggested food pairings. Plus, you can filter your search for particular seasons and states. The only thing it doesn't do is list where in the state you can find certain beers. That might be too much to ask, though. Either way, it's worth a look if you're planning holiday entertaining and want to provide a unique and festively appropriate beer for your guests.
---
Today's review is the Portland-brewed Black Strap Stout Ale.
What they say: BridgePort Black Strap Stout features a malty, caramel flavor up front with a distinctive dry-roasted bitterness in the finish.  A generous dose of Northwest hops mingles with the sweetness of black strap molasses to yield a full-bodied ale that pours with beautiful cascade that settles to a rich, creamy head.
What The Thirsty Beagle says: I'm just going to come right out and say it — I'm a big fan of this
beer. I had been sinking into a lull of lagers lately, and made a conscious effort to mix things up and go in a different direction. I'm glad I did. To start, this beer has a very appealing pour and appearance. You can almost feel how smooth it is as it flows into the glass. I mean, this beer just looks like a serious beer. It has a deep, dark brown color, almost black. Unfortunately, I messed up the pour a little bit, and didn't get a true measure of the head, as you can see at right. Appearance aside, you can smell the maltiness of this beer right off the bat, and that's the first thing that hits you in terms of taste. This one is a little sweeter than some other stouts, but I thought there was a fair measure of hoppy bitterness to balance off nicely against the caramel and molasses. I thought Black Strap left a subtle and pleasant aftertaste. Some random facts: Black Strap Stout Ale is 6.0% ABV; The beer won a gold medal at the World Beer Championships in 1997. Overall, The Thirsty Beagle tends to agree with that rating.
Score: 4 out of 5 beagles.
---
The Thirsty Beagle readers are on the ball. Got a couple of Sam Adams Chocolate Bock sightings in the comments section. James reported seeing some at the store at NW 23 and Penn, and Rob says there's some at Joy's Liquor Barrel in Yukon. I'm beginning to suspect the liquor store near my house is a little behind the curve when it comes to getting the latest and greatest on the shelves.
---
This is setting up to be a great weekend at my house, or as it is more widely known, The Thirsty Beagle Northwest Oklahoma County Memorial Sports Coliseum. So many sporting events, so much TV watching on tap. I'll be watching college basketball tonight. Ah, yes, my good friend college basketball. I've missed you. If there is one time a year when it is perfectly acceptable to sit around for four straight days watching sports 'round the clock and drinking beer, it's during the opening Thursday-Sunday run of the NCAA basketball tournament. Brackets and beer. You can't beat it. Tonight both OSU and OU are on. Both teams are intriguing. Both leave us wondering what to expect, but for different reasons. OSU is in an obvious transition year. They've got talent coming back, but a new system. Their probable ceiling this year? Maybe Sweet 16. Or they could become the Buffalo Bills of the NIT. Four years in a row, nothing to show for it. It's too hard to say for sure right now. As for OU, if they can develop a consistent outside scoring threat, they could be legitimately dangerous. Also tonight, I'll be going to the store for the weekend's supply of beer. I'll take any suggestions. I had really been holding out hope I could score some Sam Adams Chocolate Bock, but it doesn't appear to be in cards. Saturday shapes up to be an uninterrupted day of college football watching. In the Big 12, Texas will beat down Kansas, Missouri will beat down Iowa State and OSU I predict will bounce back from their trip to the town I refer to as Bizarroland and put a hurting on Colorado. I don't think Colorado stops OSU's ground game in this one, and Colorado's offense is traditional enough and light enough on playmakers that OSU should be able to hold them in check. Let's go with a 34-17 OSU win. There's also the Thunder this weekend. Is there any argument that the Thunder as a brand and mascot is seriously underdeveloped? We've got no storm clouds, no lightning, no Gary England. Nothing. I was sooooo certain the mascot would be a buffalo, along the lines of the thundering herd of buffalo theme. No dice there, but there's still no mascot, so maybe I can continue to hold out hope. For this weekend's beer selection, I'm leaning toward at least one light/lighter ale selection and one stout, just to balance things off. Again, throw any suggestions my way down in the comments section.
---
We've all joked about how fun it would be to drive a beer truck and perhaps skim a couple bottles off the top at the end of a hard day's work. Apparently one guy forgot you're supposed to wait for your shift to end before you start tipping back. A truck driver in Colorado this week was arrested after he tipped his 45,000-pound truck toting a load of Coors. Bobby Dodge, 56, of McGregor, Texas, apparently accelerated too much on an exit ramp, causing the rig to topple. The ramp was closed for several hours as authorities had to remove all the beer from the truck before they could set it upright. Dodge was taken to a detox unit, according to news reports. Bobby Dodge: You sir, have brought shame on McGregor, Texas.
---
It's time for The Thirsty Beagle readers — all five of you — to unite! Got a note from a reader looking for locations to purchase Sam Adams Chocolate Bock. I stopped by a liquor store in Edmond last night, but was told Oklahoma is typically late on the delivery list when it comes to national beer roll-outs. Smaller liquor stores can expect to be even later. I called Byron's and was told they expect to get Chocolate Bock in stock soon. So here's the task: If you see Chocolate Bock on the shelves at your local liquor store, chime in in the comments section. Cheers!
---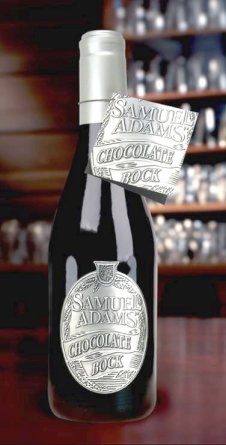 The Thirsty Beagle got pretty excited recently when a news release was passed my way. The release announced the 2008 roll-out of Sam Adams Chocolate Bock. I had heard of Chocolate Bock before, but never really knew the specifics of the beer. After reading the release, sign me up for a tasting.
The dark, handcrafted lager is brewed with notes of Grand Cru Sauvage chocolate from Swiss chocolatier Felchlin. The dark chocolate is derived from rare, wild cacao beans found in a rainforest in Bolivia. Sounds impressive enough. The beer is described as "dark, decadent… with a big, malty character, complex full-body taste and velvety finish."
Sam Adams recommends you pair the beer with just about anything: The release mentions Chocolate Bock goes with "any holiday meal." The beer also costs about as much as most holiday meals. It's packaged in a 750-ml bottle that retails for $14.99.
Despite the cost, The Thirsty Beagle is definitely interested in sampling Chocolate Bock. I'm not sure which stores carry it in the area, but I'll track it down and post a review. If you've seen  it on the shelves, drop me a note in the comments section. 
---
Here is news making the rounds in the beer world:
-The Thirsty Beagle earlier reported a beer brewing class at Colorado State University. Now another major college has joined the brewing trend. The University of Wisconsin will offer the class in the spring semester. Details here. The course instructor said the program is not so much about consumption of beer — "This is not a course to help kids go out and slam beers on Friday night," he said — but more about the science behind fermentation. The course is actually part of the university's bacteriology department. The class seems a natural for Madison because of the campus' proximity to Milwaukee. Less fortunately, the school also has the highest binge-drinking rate in the country. But the prof said students will brew, sample and critique beer, and any excess brew will be unceremoniously dumped down the drain.
-Speaking of Wisconsin, the city council in Hudson, Wisc., recently approved a beer permit for a junior hockey league game consisting of players as young as 16. The Thirsty Beagle has gone on the record to say that if everyone's following the rules, beer should be allowed where the law allows, but this one doesn't seem right. Beer at a carnival or amusement park like Six Flags is one thing, but beer at a junior hockey game feels a lot like beer at a T-ball game, which sounds kind of trashy. A league organizer said he needs beer sales to help fund operations. The city council, meanwhile, was mainly concerned that if they allowed the hockey league to sell beer, then they might have to field a similar request from the Hudson Soccer Association. Look out Wisconsin: Here comes youth soccer hooliganism!
-What do you do in Ann Arbor, Mich., when someone hits you on the right side of the head with a beer bottle? You hit that person in the left eye with your fist and run home.
-Beer sales in emerging economies are declining, according to a news report, signalling a troubling time for small breweries.
-Yet another Wisconsin tidbit: A Milwaukee brewery has announced a new beer to coincide with a museum exhibit on the Titanic: Titanic Pilsner. The main difference is that this Titanic will only get better when it hits ice.
---
I had a good chuckle at this news report from right here in our fair state:
LAWTON, Okla. (AP) — A Lawton man who attempted to pay for his bar tab with gum wrappers was arrested after a scuffle with police.
Lawton police say 28-year-old Arnold Loren was arrested Tuesday night on a complaint of disorderly conduct and assault on a police officer.
A bartender told police the man was playing pool with an open bottle of beer, spilling beer on the table. She told police Loren first tried to pay his $32 tab with a credit card, which was declined.
When police arrived and ordered the man to pay his tab, they reported Loren began counting out gum wrappers as if they were cash.
Loren was arrested after police say he shoved an officer.
Next: The Thirsty Beagle goes to Best Buy and tries to purchase a flat screen with 1,500 chewed-up lollipop sticks.
---
Talk about celebrating an election win in style. A Brooklyn, N.Y., brewery is turning out an Obama Ale to celebrate Barack Obama's victory in the presidential election. According to the brewer, the beer has "a big malt background and an 'Obama' of hops." Not exactly sure how that tastes. And it's not clear if anyone around these parts will get to taste it. A small batch of the beer was released in the spring during the Democratic primary race, but only in parts of New York and Massachusetts, and no announcement has been made in terms of a wider release  now that the beer's namesake has bubbled to the top. If you see it around somewhere, drop The Thirsty Beagle a line in the comments section.
---