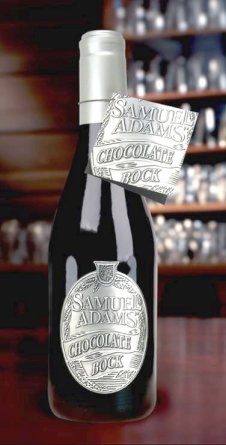 The Thirsty Beagle got pretty excited recently when a news release was passed my way. The release announced the 2008 roll-out of Sam Adams Chocolate Bock. I had heard of Chocolate Bock before, but never really knew the specifics of the beer. After reading the release, sign me up for a tasting.
The dark, handcrafted lager is brewed with notes of Grand Cru Sauvage chocolate from Swiss chocolatier Felchlin. The dark chocolate is derived from rare, wild cacao beans found in a rainforest in Bolivia. Sounds impressive enough. The beer is described as "dark, decadent… with a big, malty character, complex full-body taste and velvety finish."
Sam Adams recommends you pair the beer with just about anything: The release mentions Chocolate Bock goes with "any holiday meal." The beer also costs about as much as most holiday meals. It's packaged in a 750-ml bottle that retails for $14.99.
Despite the cost, The Thirsty Beagle is definitely interested in sampling Chocolate Bock. I'm not sure which stores carry it in the area, but I'll track it down and post a review. If you've seen  it on the shelves, drop me a note in the comments section. 
Categorized under:

Thank you for joining our conversation on The Thirsty Beagle. We encourage your discussion but ask that you stay within the bounds of our commenting and posting policy.