No, not the kind you eat – the kind that pant and plop down on your living room in dramatic fashion.
Check out these animal stories in The Oklahoman today -
Staff Writer Carrie Coppernoll
---
Check out these animal stories in The Oklahoman today -
Staff Writer Carrie Coppernoll
---
Check out these animal stories from The Oklahoman today, yesterday and Saturday:
Staff Writer Carrie Coppernoll
---
Slumdog Millionaire, which isn't really about a dog at all, received eight Academy Awards this year for all the wonderful work done by people, but several other Hollywood films were recognized for their animal workers.
The American Humane Association - the group behind the famed "no animals were harmed in the making of this movie" line during the credits – has had a little awards ceremony of its own. Folk in the AHA's Film and TV Unit gave out awards of their own:
 Staff Writer Carrie Coppernoll
---
These are tough economic times for everyone, including our pets. To help make sure our animals get the preventative care they need, Advantage and Bayer Health Care are kicking off the "Help Your Pet, Get to the Vet" campaign.
The companies are handing out $20 vouchers for pet owners beginning today and running through Feb. 28.
"In these challenging economic times, many pet owners are facing difficult choices about how to pay for and prioritize their pets' care and wellness. And unfortunately, veterinary visits and preventive veterinary care are often cut due to financial struggles and concerns," according to the campaign Web site.
They're limiting the giveaway to about 83 vouchers every hour from 8 a.m. to 8 p.m. CST so that everybody has a shot at getting some help. After all is said and done, about $260,000 in free vet care will be handed out.
The way it works is simple. You print out the voucher, take your pet to the vet, have your vet fill out the form and you mail it in. The result: you get a $20 check in the mail.
The vouchers are open to any adult in the United States, with a few restrictions. For example, the voucher must be used on preventative care.
Staff Writer Carrie Coppernoll
---
Listen to Pet Show! Valentine's Day marks our second anniversary of broadcasting important animal news and information to the WORLD! So what better way to celebrate (a little early) than by recapping our best shows? Here are our Top 10 favorites:
Chris Burney of Bowling for Soup talking about traveling with animals
The dog IQ tests
Dr. Phil Mosca of Integris with his dog, Boz
Halloween costumes with Steve Dale of gadzoo.com
Turkey genetics and behavior with Dr. Don Skinner-Noble of OCU
Oklahoma's animal fighting fund with Attorney General Drew Edmondson
Fish tattooing
Horse racing with Joe Lucas of the Thoroughbred Racing Association of Oklahoma
Snake breeding
We also gave out some Pet Show awards: best advice, favorite celebrity, Young Pup of the Year, best head-wear, myth-buster and favorite expert. (You'll have to listen to the show to find out who won, but I'll tell you the winner of Best Show Title: "Happy Mew Year." ha)
But Pet Show would not be complete without news or tips. For news, Bryan told us about a prehistoric monster snake. To make up for it, he also told us about comfort animals in Utah. Dawn also gave us some excellent tips for Valentine's Day.
The modern gift for a second anniversary is China. So here is our gift to you, Pet Show fans:
Staff Writer Carrie Coppernoll
Podcast: Play in new window | Download
---
What are some of the weirdest things your pet might swallow? Check out this slide show from the New York Daily News with some x-rays of animals who ate things other than food.
Here is my favorite.
- Staff Writer Bryan Dean
---
Police believe a Virginia Beach, Va. woman was strangled to death recently by her pet python.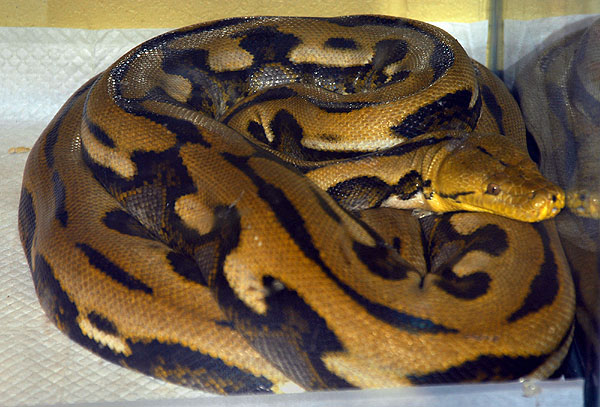 Amanda Ruth Black, 25, was found dead by her husband in a bedroom of their home. The 13-foot tiger python's cage was open. Authorities believe she died from asphyxiation.
Police believe she was trying to give the snake medication when it attacked her. The snake was found in the bedroom. It took two animal control officers to catch and restrain it. It is now being held by the Virginia Beach Bureau of Animal Control.
- Staff Writer Bryan Dean
---