Check out these animal stories in The Oklahoman today, Sunday and Saturday -
Staff Writer Carrie Coppernoll
---
Whenever President-Elect Obama promised his daughters they could have a puppy, the pet world went crazy.
"Will it be a purebread? A mutt? A shelter dog? A big dog, small dog, boy dog, girl dog, allergy-free dog, three-legged dog, left-handed dog, spotted dog, car-driving dog? What kind of DOG?!? TELL US, OBAMA FAMILY!"
Obama is tight-lipped. But all this hubbub is exhausting. Everyone is offering advice to the Obamas - even us experts here at Pet Show! And we had a story in the paper, too. But now even the Peruvians are getting in on the action. Yes, the people of Peru are telling the Obamas what kind of dog to adopt.
While all dogs are special, this dogs are a little wacky looking. But their hair-free features would be a benefit to Obama's older daughter, who's allergic to dogs.
All I've got to say is enough. I was so grateful when the election finally ended, and now this madness has gone into full swing. Just tell me when it's all over, please.
Staff Writer Carrie Coppernoll
---
About four years ago, I got my first puppy. He was a beautiful blue fawn Italian greyhound named Bullet. He was different than any other dog I'd ever been around.
He didn't make me sneeze.
Despite a deep and abiding love for dogs, I never thought I'd be able to have one. Let alone one who lived in the house with us. But my husband used his reporter's research skills to find the perfect breed for us — the Italian greyhound.
It's been sneeze-free puppy love ever since. In fact, we have two iggies (as they are also known). This photo is of Bullet. You can also read about Paloma.
As President-elect Obama searches for the perfect hypoallergenic pup for his family, I'm sure Italian greyhounds will be among those considered.
They have very little fur and no undercoat, which helps with their low-allergen status.
Should the first family choose an iggie, it wouldn't be the first time the smallest of the sighthounds has occupied the Oval Office. The 10th president, John Tyler, bought his wife an Italian greyhound named "Le Beau." According to several sources, he fit in with her efforts to be fashionable.
Sounds like a perfect fit to me. But I might be a little biased.
For more about pets and allergies, read the story today in The Oklahoman.
Assistant News Editor Amy Raymond
---
President-elect Barack Obama, who famously promised his two young daghters a new puppy after the election, told reporters today that the family wants to adopt a dog from a shelter.
Obama, in his first press conference since winning the presidential election Tuesd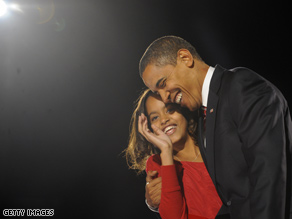 ay night, said his 10-year-old daughter, Malia, is allergic, so the family wants a hypoallergenic breed. But he also said the family would like to adopt a dog rather than buyng one from a breeder.
"There are a number of breeds that are hypoallergenic, but on the other hand our preference is to get a shelter dog, but obviously, a lot of the shelter dogs are mutts like me," Obama said. "So, whether we are going to be able to balance those two things I think is a pressing issue on the Obama household."
Obama's mother was Caucasian and his father was African.
The soon-to-be first family's choice of canine has become a hot topic since the election. Obama mentioned that his daughters had "earned" a new puppy during his acceptance speech Tuesday night.
- Staff Writer Bryan Dean
---