Archive for
Officials think a failed pregnancymay be the reason a giraffe died at the Tulsa Zoo this weekend. If you read the story in The Oklahoman this morning, we have a slightly updated story on our Web site now.
Staff Writer Carrie Coppernoll
---
Someone reminded me of this video, so I thought I'd share. It's so great!
Staff Writer Carrie Coppernoll
---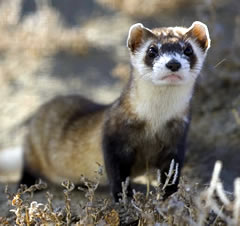 Kansas, our fabulous neighbors to the north, have some good news to share. Black-footed ferrets there are making a comeback.
Last summer, 24 ferrets were released onto the plains, and apparently they're doing really well. Most survived and a few even reproduced – great news for the endangered animals.
Staff Writer Carrie Coppernoll
---
Read The Oklahoman this Saturday for a story about how Oklahoma City Zoo officials protect animals from dogs, snakes and other uninvited predators. The story examines local practices after two animals diedat the El Paso Zoo this week after a feral dog attack. Also, look for a behind-the-scenes videoof flamingo chicks, one of the animals kept off-exhibit until they're old enough to escape predators.
Staff Writer Carrie Coppernoll
---
Five Deer Creek Prairie Vale Elementary School students gave more than $400 to Free to Live Animal Sanctuary this week.
Katie Elcyzyn, Hallie Hinton, Lexi Heiden, Alex Jury and Camryn Lockhart sold tie-dyed T-shirts, key chains, drinks and other items on Aug. 16 and 17 at a stand in the Southerly Farms Housing addition. During their time there, the girls earned $437 which they presented to Free to Live representatives Thursday.
The girls also volunteered at Free to Live on Aug. 16 to help exercise and socialize the animals. Free to Live accepts volunteers every first and third Saturday to help with the animals. One of the girls' mothers said in an e-mail that the girls had a lot of fun with their fundraiser and learned about making a difference in the community.
Here's hoping there are more people out there like these girls who want to help.
Staff Writer Dawn Marks
---
Oklahoman Staff Writer John Sutter joined us for a special edition of Pet Showtoday to talk about his puppy mill coverage. Sutter has been following the story of 90 dogs abandoned in southern Oklahoma.
The American Humane Association offers these tips if you suspect animal abuse:
- Evaluate the situation.
- Report it.
- Understand the law.
- Help prevent abuse by raising awareness.
Also, listen to this past show. Rodney Pesch of Oklahoma City Animal Control spoke with us about animal cruelty. He told us ways to spot cruelty and how to report it.
Staff Writer Carrie Coppernoll
Podcast: Play in new window | Download
---
For those of us who have been following the Michael Vick case, there are plenty of unanswered questions. Sunday night Animal Plant will explore the case in depth, focusing on the aftermath of the case and what happened to the dogs caught up in the horrific ordeal.
The show airs at 9 p.m. Sunday on Animal Planet.
Word has it that there's a Michael Vick dog in Oklahoma, but we haven't been able to track down the lead. Do you know of anyone who's helping rehabilitate a Vick dog or who may have adopted one? Let me know – 475-3911 or ccoppernoll@oklahoman.com.
 Staff Writer Carrie Coppernoll
---
The Oklahoma City Zoo Fall Home School Event will be from 9 a.m. to 4 p.m. Sept. 9 at the zoo's education center. 
The big event is designed to get kids from elementary school to high school excited about science. Activities include speakers, keeper talks, zoo tours and a photo safari.
Registration is $20 per person and includes zoo admission, parent information guide and a 20 percent discount on zoo gifts and concessions. Students must be accompanied by a parent or guardian. Registration is due by Sept. 2. Call 425-0218.
The event is hosted by the zoo Education Department.
Staff Writer Carrie Coppernoll
---
A rancher found nearly 100 dogs someone had ditched on his ranch, and luckily authorities have already found homes for all but three of the pups. Read Staff Writer John Sutter's storyonline today, and read The Oklahoman tomorrow for a more in-depth look at state regulations of breeders and kennels.
Staff Writer Carrie Coppernoll
---
 The Humane Society was looking for a memorable face to represent their efforts, and boy did they someone memorable: Yogi.
And as if Yogi wasn't ridiculously cute, he has a great blog at okhumane.wordpress.com.
Yogi's making an appearance at the Festival of Hopebenefit for Heartline charities. (And Yogi will be wearing an original design by Kayne made especially for him.)
Surely Yogi will be a hit at the big event Friday, and he'll be a great mascot for the Humane Society.
Staff Writer Carrie Coppernoll
---