Q - My son's friend says we don't want to buy any more new computers, that we should "build our own".  Any ideas what he's talking about?
A – Your son's friend is the equivalent of a hot rod tinkerer. What would you rather drive … a tricked out roadster or a reliable Honda with a warrantee … ? I thought so :)
There was a time when building your own PC (buy the case, motherboard, power supply, drive, cpu, etc … and put it all together yourself) made financial sense. And I would still encourage it if you see it as a chance for you or your kids to geek out and learn. But prices on a basic, get the job done PC are so low that usually people consider building their own only when they are creating a really high-end gaming machine. Again, no slight to the friend of your son. I applaud their thinking. But I am thinking of you. There are plenty of desktop / 20 inch combo deals available for under $500.
Watch the ABC News video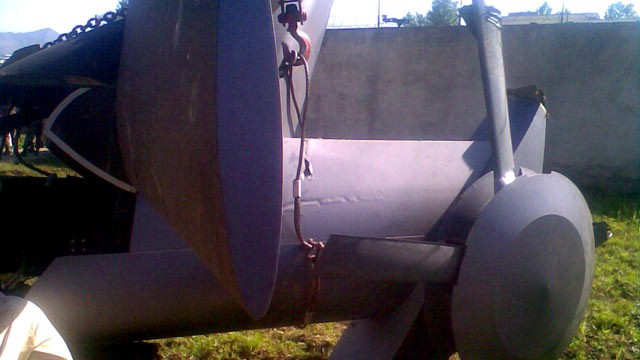 The special forces destroyed the helicopter. Only the tail section remained. There's a good chance this technology is now heading to China.
If you are looking to buy a first generation iPad at a discount it appears many early adopters are ready to sell. They are all gearing up to plink down fresh money on new iPads in April.
I have seen three sell in the last 24 hours from people I know.
If you buy a used iPad now you stand to get a great deal … and even better … that used iPad is still under warranty at least until April.
If you stood in line to buy the first iPad and you fancy buying an upgrade in April you will obviously get more money selling now than when the new iPad rolls out.
What about you? Are you buying a second gen iPad in April? Are you interested in a deal on a first gen iPad today? Do used Apple products hold resale value better than other electronics?
It's hard to say, but I had some great laughs. LINK If the pictures don't do it for you, the commentary will. Thank you Nilay Patel!
I'm looking for a case for the iPad that I can recommend for kids or seniors. This one caught my eye.
I love this one but it's too pricy.
A year ago the iPad was only a rumor. Now everyone wants a tablet.
If you're in the market for one of these prepare to be overwhelmed by choices. With Apple's run away success at tablet sales there's the promise that even more choices are on the way.
If I was shopping for a tablet today my favorites are the Apple iPad, the Samsung Galaxy Tab and the Barnes & Noble NOOKcolor. These aren't so much a good, better, best choice as they are tablets for different needs and price points … each the best in their class.
iPad
The iPad is not a laptop and a lot of buyers really like that but it serves as a usable substitute. It is simple to use, it's big, its bright and for most of us it's a capable replacement for what we do day to day on a computer.
iPad price
You can spend anywhere from $499 to $829. The least expensive iPad has 16GB of storage and connects to the internet through wifi. Unless you are storing a ton of movies or volumes of stollen music 16GB is plenty for most.
The top priced iPad has 64GB of storage and gets network access through wifi or a 3G pay-as-you-go monthly contract from AT&T.
There's a variety of iPads to choose from but really you just have to make a choice about storage and connectivity. I already told you my opinion about storage. As for connectivity you have to decide whether you need internet access everywhere or if you think you will be around wifi hotspots enough to get by. If you own a smart phone too, I think paying for 3G access for your iPad in addition is overkill.
iPad size
The iPad is about the size of a National Geographic but heavier. If you are laying in bed with the iPad above your face be careful, you might have to explain how you got a black eye.
If you are a committed reader of books and blogs the large iPad screen size isn't a prerequisite. You will find great readability on smaller devices. If you read magazines or newspapers and find yourself musing over the typography and aesthetics of the experience the iPad is a good choice. From Oprah to The Oklahoman a lot of attention and care is going into creating unique reading experiences that require the iPad or at least a tablet with this screen size.
iPad upgradeability
You can't upgrade the iPad. It has no microSD slot for expanded storage. Nor does it have the typical USB port. (Apple does sell a USB dongle called the iPad Camera Connection Kit that helps you connect to a number of USB devices) The iPad doesn't run Adobe Flash. Apple's excuse – tablets are about simplified freedom, remember? Will you miss Adobe Flash? A year ago Flash was the de-facto way to view web video. Today it isn't. The world is saturated with iPhones and iPads and the web is bending to Apple's future. Netflix, YouTube, Hulu … it's all on the iPad.
Samsung Galaxy Tab
Not thinking the iPad is for you? After all of the positive press for the iPad is there room in the tablet landscape for anything else? You bet! Let's touch first on Android then we'll talk about the Samsung Galaxy Tab.
Android is the operating system for the Samsung Galaxy Tab. Android is to a tablet what Microsoft Windows is to a computer.
Where Apple makes both the hardware and the OS for the iPad, Google makes just the OS and leaves the hardware to 3rd parties.
Do you need to care about this? An Android tablet is an Android tablet right? Well, gasoline makes a lot of cars go but there's a huge difference between my '92 Ford Tempo and a BMW 7 Series. So even if the tablet is running Android be careful what you buy. You will get what you pay for.
Instead of talking about the dozens (clutter ) of cheap Android tablets or trying to talk about what's on the horizon but isn't in the store yet I'll to focus instead on the clear leader – the Samsung Galaxy Tab.
Galaxy Tab price
Depending on the carrier you decide to buy from you will spend around $600. If you buy the tablet with a two year contract from AT&T, Sprint, T-Mobile, U.S. Cellular, or Verizon you can have it for $400.
You may be wondering how the brightest contender to the iPad costs more at half the size? I wondered that too. I imagined the additional cost over the lowest priced iPad was due to the 3G radio and GPS receiver inside. But that's not it. The Samsung Galaxy Tab's cost of materials is only about $200. If they price it more aggressively they will sell a lot more. It is built well though, far better than the competing Android tablets in it's class.
Galaxy Tab size
Having an iPad-sized tablet is great, except when it isn't. I've already told you about nearly breaking my nose with the iPad in bed. Granted, the Galaxy Tab doesn't slip in your pocket like a smart phone, but it can go more places than your iPad. It fits easily into a purse, for example and it doesn't draw attention.
The Galaxy Tab is as thick as a slice of bread and two inches longer. This tablet is easy to hold with one hand. Web browsing, email, twitter, Facebook, eBook reading and video all look better and are more usable than on your smaller screen smart phone.
Galaxy Tab expandability
Sorry, no standard USB ports on this one either. (Samsung chose to include a proprietary USB jack much like Apple's) I think Samsung followed Apple's simple design rules. The Galaxy does have  expandable storage. If you aren't sure how many songs or movies you'll be adding you can expand to 32GB. It looks like most carriers are including a 16GB storage card.
Galaxy Tab extras
What else makes the Galaxy Tab stand out from the iPad other than its smaller size. It has two cameras; one on the front and one on the back. The iPad will have cameras too but not until next April. Besides snapping photos the cameras are for video chatting. Keep in mind it takes two people to video chat and both parties have to have the same chat solution. So you won't be video chatting with your buddy on his iPhone, for example. Used as a point and shoot camera the Galaxy feels awfully big to be holding up in front of your face. It is cool to see a preview of the photo you just took that is about the same size as a print of the photo. Also the Tab carries the Google-certified logo, which means the Android Market is on board. Samsung says the 80,000-plus apps in the Android Market will work on the device, although only a small number of those are actually optimized for the Tab's screen size. Most of the apps are for the smaller screened Android smart phones. Finally, the Galaxy Tab can also run Adobe Flash, but I don't think this is a game changer.
Deciding to buy the Samsung Galaxy Tab will likely come down to a decision about device size or carrier options.
Barnes & Noble NOOKcolor
I offer one more tablet to consider. It's Barnes & Noble's new color eReader. The NOOKcolor runs a flavor of Android like the Samsung Galaxy Tab. To be fair to the Galaxy, the NOOKcolor can't do everything its competition can do (no camera and it can't run all the software) but it does enough for many of us and it costs half the price.
NOOKcolor price
At $249 the NOOKcolor is priced more like an iPod than a tablet. There's just the single model to choose from. It's wifi-only. But for a tablet billed as an eReader, you get a lot of machine at a great price.
NOOKcolor size
The NOOKcolor is the same size as the Galaxy Tab. It features a bright viewable capacitive seven-inch display. The iPad and the Galaxy also have capacitive touch screens. These type of displays last longer and respond to the lightest of touch instead of a forced press. They just feel like quality.
The NOOKcolor specializes in displaying publications from Barnes & Nobles' digital bookstore but the tablet continues to impress with Pandora web radio, a web browser and social sharing of content back out to the web. This is a fun tablet to use. It looks like Barnes & Noble is committed to bring even more functionality to the device through upgrades early next year.
Now go buy one
Get the iPad for a BIG visual experience, as a laptop replacement or if you are already committed to the Apple ecosystem.
Get the Samsung Galaxy Tab if the iPad is too big or if you want a data plan other than AT&T.
Get the price conscious Barnes & Noble NOOKcolor if you fancy having a color eReader that thinks it's a tablet computer.
I don't think this would save your head from a crush-type injury. But this stylish helmet alternative looks like it would preserve your head and neck from an impact.
Side note – bike wrecks in slow-mo are crazy interesting.
Cool design. I have to say though, I think Bjork was on to this way before these guys.
Read more at Fast Company Co.Design or test your Swedish at Hovding.
You may have missed the world wide celebration last night. Perhaps you saw the fireworks and the Thunderbirds flying overhead with red, white and blue smoke and had no clue what was going on.
The Oklahoman is [now] available @ the Barnes & Noble eNewspaper store.
That's it? Yep, that's really it. You could stop reading here. If you are like me you probably will. If you have a nook you are now informed. Go get your newspaper. If you were teetering in a buying decision, you now have no excuse.
If you have nothing else to do … keep reading.
The nook was exciting a year ago. The press called it a kindle killer, etc … etc …
Then in the spring of 2010 the iPad came along and just sort of eclipsed everything … At least I think it did.
You know I gush over Apple products … It's easy for me to assume that since my iPad is so snazzy and can do so much … no one can seriously be thinking of buying an eReader still. Can they?
I went to Barnes &Noble off Memorial this week to tell them about The Oklahoman being available and to replace the battery on our nook. They were excited. They said a number of buyers ask when The Oklahoman will be available on the nook.
Anyway, the store has enlarged their nook presence. It's like a little Apple Store. Lots of tables and lots of nooks to try out. They even have a nook genius … or at least someone that knows more about the nook than I do. (thanks Lori for your help with the battery)
Being there and seeing this made me reconsider or remember something I already knew. Technology enables choice.
$149 for a wifi nook that does one thing very well –> easy
I'm going to avoid comparing the nook to the iPad because I'm chicken and other people have already tried. The argument FAILs because … the nook and iPad are not even in the same class. Basically the nook is the equivalent of a single app on the iPad that does one thing really well, out in the sun, all day on one charge.
Having realized that the world is filled with choice, I shamelessly invite the people that care about "just reading" and want or own a nook to give The Oklahoman a spin.
By the way, the nook software for the iPad is quite good. So if you want to check out The Oklahoman on the nook on the iPad … be my guest. After all, we just tell the stories. You get to choose where to read them.