Archive for
I've heard from a couple of readers interested in seeing more images of the old Mercy Hospital that occupied by the NW 13 and Walker block in MidTown now slated for The Edge apartments. It's easy for me to forget that not everyone saw this huge complex day in and day out as much as I did, and that some never saw it as well.
So let's take the time machine back and visit the hospital during its glory days, and then not so glorious days:
---
So how did we get here? How did we get to January, 2012, and residents of Heritage Hills are surprised that a housing development is about to go up on the former site of Mercy Hospital?
First, let's go back one decade. Mercy Hospital abandoned its downtown home and opened a new complex in the mid-1970s in what was then the sticks – Memorial Road just west of May Avenue.
The old Mercy hospital ended up boarded-up blight on the neighborhood for a quarter century.


In the late 1990s the city finally got around to securing control of the block and the Urban Renewal Authority was tasked with finding a developer for the site.


Nicholas Preftakes made the first pitch in 1998. The $11.8 million proposal, the first downtown area housing attempted by Urban Renewal in 20 years, called for 16 two-story town houses, 72 city villas and 52 apartments. A rendering from the project shows the apartment building would have been six stories high.
The project was canceled in 2002 after Urban Renewal commissioners refused a request by Preftakes to acquire a duplex just south of the site. That duplex, once criticized by neighbors as a public nuisance, was later renovated into law offices.
The Urban Renewal Authority made another request for proposals for the site in 2006. By this time downtown housing was gaining momentum with the success of the Deep Deuce Apartments and other for-sale and rental housing popping up throughout downtown.
Two developers stepped up on this second go-round.


Marva Ellard pitched a plan dubbed Mercy Park, a $48.3 million development that would include 111 apartments, 22 for-sale condominiums, restaurant and retail, and a 72-room hotel. The Mercy Park proposal called for a restaurant, deli, shops and a grocery to face NW 13 between Dewey and Walker. Condominiums would face Walker while apartments would be built along NW 12 and Dewey. A hotel would be built in the center of the development, with underground parking serving the entire complex.


Chuck Wiggin, meanwhile, pitched Overholser Green, a $61.3 million development consisting of four buildings, four- to eight-stories high, with 109 upscale for-sale condominiums built above underground parking.
Wiggin's proposal was chosen, only to fall through due to the economic crash of 2008. Wiggin attempted to persuade Urban Renewal board members to keep his contract in place and allow him to adapt his proposal into apartments. The board instead decided in 2010 to put the project back out for bid. And this time they received five responses – though one, pitched by Home Creations, was deemed significantly out of line with what was being sought by Urban Renewal due to its mix of office space and low threshold of investment.
This time Wiggin proposed a five-story complex with 24,000-square-feet for restaurants and retail, a 375-car garage, featuring 200 rental units with monthly rates between $600 and $1,900.
Ellard pitched a proposal again as well, this time submitting plans for a 150-unit, four-story complex that would have included enough parking to share with the nearby Unitarian Church and a daycare center.
This time around, the competition was joined by Richard Tanenbaum, whose previous residential downtown development included the Park Harvey Building and The Montgomery.  Tanenbaum and his son Stephen proposed a four-story, 268-unit apartment complex with a pool and courtyard.
The Edge has undergone some changes since it was first proposed (as shown in the above rendering). In response to a push by the Urban Renewal board and neighborhood advocates, a retail mix was added along Walker Avenue.  The amount of stucco facade was reduced, and garage was relocated to where it will be far less visible to the street.
These deliberations were open to the public; I even did live blogging and in-depth evaluations of each proposal.
Building permits are being sought, financing is apparently set, zoning is in place. All that remains, really, is a routine replatting of the block and approval for the exterior design by the Downtown Design Committee, which meets on Thursday. One variance is being sought – for a three-foot parapet to screen rooftop equipment.  The Mercy site has never been this close to development – and after 13 years of similarly-sized developments being pitched and attempted for the block, it now has the attention of the Heritage Hills neighborhood one block to the north.
---
Let's examine a bit more closely the 10th Street Medical Corridor Plan, prepared through the 10th Street Medical District. This was a private organization founded after the city and county agreed to address problems in MidTown that had St. Anthony Hospital pondering a move away from the urban core.
It's a group that has done a lot of good for MidTown. But it's a private group – one that denied me access to its deliberations as it considered housing proposals for property it controls at NW 10 and Hudson (the deal ultimately went to a hospice group, though we've yet to see any work commence).
The Heritage Hills residents opposing The Edge repeatedly quote from a study done with the 10th Street Medical Corridor, in which one section is devoted to the former Mercy hospital block. Planning Director Russell Claus noted the study was a snapshot in time, one that was written to address the area as it existed in 2005/2006 – before the emergence of the Walker Avenue shops and revitalization of several former flop houses in MidTown into upscale apartments. It is a document that was intended to be guidance, but not a statutory restriction, to development of the area. Note that within the language of this section is its own description – "design recommendations." No more, no less.
The section of the study addressing the Mercy hospital block, set to be developed as The Edge, is presented for readers to decide for themselves the significance of the document six years after it was written:
Opportunity Area "A" comprises a single vacant parcel two blocks north of St. Anthony and directly adjacent to the residential neighborhoods of Heritage Hills and Mesta Park. The block has great access and visibility from both 13th Street and Walker Avenue. This 3.2-acre site is ideal for new moderate-density residential development to serve the needs of the hospital employees and others working in the area and downtown.
New residential uses south of 13th Street will advance the broader objective of developing this area as a transition zone between the neighborhoods to the north and downtown to the south. Medium-density housing would be most effective in tying these areas together. Because the site is already vacant and owned by a single entity—a city agency involved in redevelopment—this area is well suited to be developed early, as one of the first major residential construction projects in the district.
STRATEGY
Given the proximity of this site to the southern boundary of Heritage Hills, the character and scale of the architecture should address the edges of the site in different ways. At 3.2 acres, the site is large enough to accommodate a range of housing configurations. Several housing types can be dispersed on the site, with smaller footprints facing 13th Street and larger buildings oriented to the south and 12th Street. This variation in scale will help to create the desired transition from the residential scale of northern neighborhoods to the institutional scale of St. Anthony.
Access to parking for the new development should be located off of Dewey and Walker streets so that additional curb-cuts off of 13th Street are not required. The parcel is large enough for surface parking to be in the middle of the site surrounded by buildings that shield the parking from the street. In addition to parking on the interior of the block, on-street parking should be encouraged.
Urban design recommendations for Opportunity Area A:
Surface parking for new residential development should be kept to the inside of the block, shielded by buildings that form its perimeter. Direct driveway access to the site from 13th Street should not be permitted; parking access should occur from the north-south streets of Dewey and Walker.
Residential density on the site should range between 25 to 40 units per acre. Some small-scale, ground-level commercial uses could occupy the corner of 13th and Walker, drawing pedestrian activity from the restaurant and commercial uses beginning to cluster on Walker Avenue to the south.
Priority Actions:
Release the Request for Proposals (RFP) for developers to redevelop this site calling for new residential
uses.
Initiate a site survey and subsurface exploration to identify any potential obstacles to development such as utility lines and abandoned foundations from the former Mercy Hospital.
---
In today's paper we got to see the case presented by some Heritage Hills residents against The Edge, the 252-unit apartment complex about to be built in MidTown. Note, it's not in Heritage Hills – it's in MidTown. As with any complicated story, it's challenging to get every detail into a daily news story. But this story represented my best first shot at delving into this debate.
Let's start with some basic information first:
- Gary Brooks was selected in what was an open and transparent competition with three other well respected developers. When potential unfairness was noted on this site, including the prospect that some of the developers wouldn't get to make a presentation to the Urban Renewal board, the board quickly reversed course. I also witnessed first hand a board membership that seemed to sway back and forth between three of the four proposals (for the life of me I can't figure out why a rather wonderful proposal by Marva Ellard didn't gain any traction). From information I was gleaning before the final Urban Renewal vote, it appeared possible that Richard Tanenbaum was going to win the contract. Even Brooks himself appeared resigned to losing the vote when I encountered him 30 minutes before while fueling our vehicles at a downtown convenience store. I then witnessed a vote that almost seemed to swing toward Chuck Wiggin before ultimately coming down on the side of Brooks.
- This project was covered extensively in The Oklahoman, on OKC Central, in the Journal Record and in The Oklahoma Gazette. You couldn't escape it on the popular online community forum OKC Talk.
- As I reported in today's story, Heritage Hills was represented in a committee review of the development proposals by Steve Jacobi, board president of the neighborhood association Historic Preservation Inc. It was during this process that issues of density and design were delved into and settled (a discussion that took place a year ago).
- This site is zoned for apartments.
- This site falls into an area represented by the Urban Neighbors residents association. I've heard from multiple members, including an officer, who are VERY unhappy that the Heritage Hills residents have tried to dictate terms in an area that is not in their neighborhood and did not bother to bring their concerns to Urban Neighbors, which does represent MidTown.
Now, that all said, let's look at the emails that got people talking:
First up – a January 11 email from Alicia and Scott Champion, who live on NW 14 (there is a half-block buffer zone of office buildings separating The Edge site from Heritage Hills. Midtown is south of NW 13, Heritage Hills begins at NW 14):
Subject: The edge – PLEASE REPLY – AGREE

Heritage Hills residents

Have you been made aware that there is a new 68 ½ foot at the tallest point or 5 story apartment complex in the works to be constructed on the south side of the street at 13th& Walker? This is a 252 unit project that will have 232- 1 bedroom units, 10- 2 bedroom units, and 10-3 bedroom units and the "asking" rent price for a 1 bedroom is $1,000.00 a month. The Edge apartments are supposed to be "high end" and I do not doubt that they won't be but, the scale of the project is enormous! If you are concerned about what an apartment complex will do for your property value in the next 20 years please read on.

A height of 6 stories (at the tallest point and a common green space area) is a big invasion of privacy for those resident that not only on the "border" the south side of 14th but all of 14th street. If you are walking along the street on 14th you will indeed be able to see the complex cascading over the roof tops and trees. While we earnestly are passionate about development in and around our neighborhood a lot of us are not excited about a complex. Most of the neighbors would envision for housing

· Ownership of condominiums

· No more than 3 stories in height

· Gradual sky line transition along 13th street into downtown

If you think this is a great idea for our neighborhood to have so many transients across the road then please read no further but if you are concerned about

· Noise

· Traffic

· Increase in classroom size at Wilson School

· Foot traffic and pet traffic along our streets and parks (we pay for the upkeep!)

· Electrical Infrastructure i.e. more rolling brown outs. Especially if you are on Saint Anthony's grid

· Plumbing Infrastructure

· Litter (Pet litter as well)

· Increase of potential crime

· Balconies without covenants

· Retail on Walker without restrictions

Then please join us and sign this petition. If you are against a complex of this size going into our backyards make your voice heard. We are in need of signatures for the Emergency Historic Preservation Meeting January 12, 2012.

We are not downtown and don't need density we are midtown and need to protect what we and sustained all of these decades. We need all the support that we can get. HPI was created for this very thing! Our founders Watson, Coley, Nesbit all thought of the importance of our neighborhood and wanted to not only protect the interests and historical value of our homes but our boarders too! The South side of 14th, north side 22nd and all the streets along Broadway and Classen Boulevard are the true boarder s of the neighborhood and we must protect our area. We have collected millions in our endowment fund to help protect ourselves and our investments. Let's face it, the developers wouldn't be here if it were not for many of us pouring thousands if not hundreds of thousands of dollars into persevering our homes. We need to make sure the development will be good for the entire neighborhood and corridor between midtown and downtown.

We want to supply HPI a list of names of neighbors in Heritage Hills who are against the Complex. (Our neighbors in Mesta are joining in our efforts as well).

Many thanks.

Alicia and Scott Champion
Now, let's look at yet another email, this one sent out on January 10 by another resident on NW 14, Darci Schafer:
Subject: Re: "The Edge" Please mark your calendars and plan to attend the Downtown Design Review Committee (DDRC) Thursday, January 19 at 9:30am, OKC Municipal Building, 200 N. Walker, 3rd Floor

All concerned neighbors are encouraged to attend the Downtown Design Review Committee (DDRC) Thursday, January 19th at 9:30am, OKC Municipal Building, 200 N. Walker The Downtown Design Review Committee (Betsy Brunsteter, Gigi Faulkner, Mark Grubb, Charles Ainsworth, Richard Tanenbaum, Stan Carroll and Ike Akinwande) will review the design/overall scale and plans for the proposed 252 unit apartment complex *"The Edge."

The Edge must be approved by the DDRC to become a reality. The meeting begins at 9:30, but the agenda will be posted online closer to the meeting if you want to check the order of business. Their website is www.okc.gov (Click on DDRC.) Parking is challenging there right now, so be prepared. Attendance is of the utmost importance. It is possibly our only chance to have the plans for "The Edge" apartments denied or at least "continued" (delayed). To date, attendance at this meeting is the most important action for concerned neighbors to take.

Any comments or concerns about the potential impact on surrounding neighborhoods may be e-mailed to staff member Scottye.Montgomery@okc.gov who will forward them to the seven-member DDRC.

You may be interested to know the following meetings are also scheduled:

Wednesday, January 11 Meeting of Mesta Park's Executive Board

Thursday January 12 Special Meeting of HPI, Heritage Hills' Board

Most of you are receiving this e-mail because of prior attendance and interest. If you are new on the mailing list, this is regarding the issue of the *Edge Apartments that are planned for the old Mercy site on the entire block between 13th and 12th Street between Walker and Dewey. This apartment complex would be a building four and five stories tall with balconies. There would be a minimal lot line (no external green space), 252 units (200 would be 1-bedroom; 10 two-bedroom and 10 three-bedroom), and at least at least 400 cars could be associated with this property.

Concerns include but are not limited to:

Overall scale of the project/compatibility of the design

Traffic impact (400+ cars)

Utility impact (water and electric power grid) (252 units)

3-4 Levels of balconies (covenants)

Retail (covenants)

Project consultation with neighborhoods to the north/lack thereof

Additional information:

The following is a link provided by one of our neighbors. In 2006 OKC consulted with two firms (of Cambridge MA and St. Louis MO) regarding the City's plan for NW 10th Street between St. Anthony and OU Medical Center. It spoke specifically about the old Mercy site as a "transition zone" and even recommended density (80-120 units) for a residential project. The Edge doubles (252 units) the recommended amount of units. Pages 20-25 are particularly worth reading as they provide solid recommendations and some helpful visuals.

http://www.okc.gov/planning/tenthstreet/10thstreetreport.pdf

Please feel free to pass this information along. Thank you all for your interest in this matter.
Now this email brings up a report the neighbors have been citing – but is it truly relevant to the discussion or binding in this matter? Note they're citing pages 20-25, which does indeed address the old Mercy hospital site that is now in contention. This is a study; it is not a zoning, design guideline or statutory document governing this property. It is, in fact, the reflection of efforts by a private group whose meetings have been closed to the public and with whom I've had difficulty in the past getting information in regard to efforts to redevelop land under its control at NW 10 and Hudson. They are not breaking the law with this lack of transparency – they are, indeed, a private group that has every right not to share every bit of their business with a pesky reporter such as myself. But that also would seem to diminish the importance of this document as being anything but a guide – one that is now six years old and pre-dated most of the development we've seen to date in MidTown. Popular restaurants such as Stella's (where several of the Heritage Hills protesters met after their meeting Thursday night) were not yet in existence. That stretch of buildings, now occupied by shops and restaurants, were still a blighted mess.
This study does not, as I read it, suggest LIMITS on development and density, but rather shows potential outcomes. It is also eclipsed by much more recent studies on walkability, authored by Jeff Speck, and a downtown housing study authored last year that promote urban density and housing development, especially apartments, in MidTown. All three documents are studies, not binding requirements and limitations on development.
So at this point, we have a developer chosen through an open competition. We now know that Heritage Hills was invited to review and evaluate the competing proposals, and that its neighborhood leader did participate and according their records, he kept his board updated on the development discussions. We also know that the project does not conflict with any zoning or city regulations, other than a 3-foot variance being sought at Thursday's meeting of the Downtown Design Review Committee for a decorative crown element at the rooftop that will screen various air conditioners, building systems, etc. We also know the study cited by Shafer is six years old and does not impose any limits on development of the site, other than to recommend how best to proceed with possible housing.
In terms of the development's quality, beauty is in the eye of the beholder. At least one of those commenting that the design is substandard in comments posted here at OKC Central and at NewsOK, I know, is directly tied into one of the three losing development proposals.
For those who might think I'm in any way beholden to Brooks, hit "downtown housing" under categories on this blog and review the scrutiny I gave during the selection process and to the Brooks proposal.
I pick apart apparent mis-truths. It's what I do.
---
Editor is asking me to send her my two "most awesome" blog entries for 2011. Any suggestions?
---
Let's revisit the planned development of The Edge apartments at NW 13 and Walker in MidTown. The site was previously the old Mercy hospital, a six-story complex that stood boarded up and blighted across the street from Heritage Hills for almost three decades.
Urban Renewal has had three shots at developing this site, starting with an apartment complex approved in the late 1990s that was to be built by Nicholas Preftakes. Not once while covering this story did I hear any complaints from Heritage Hills about the prospect of apartments across the street, the development's impact on traffic, noise, crime or the electric grid.
The development fell apart when Preftakes wanted additional properties to be acquired for the project.
Then, in 2006, Chuck Wiggin, himself a Heritage Hills resident, pitched a 109-unit development of for-sale condominiums. The development, approved by Urban Renewal, was to consist of four buildings, four- to eight stories high. Again, not once did I hear of any objections voiced by Heritage Hills. The development fell apart when the condominium market crashed.
So fast forward to 2010; another competition is held by Urban Renewal. A very public bidding process is overseen, with aspects of each bidder's project reported repeatedly by The Oklahoman, Journal Record and the Oklahoma Gazette. The development also was covered by television.
The winner of the competition, Gary Books, pitched a complex that consists of 252 units, of which 163 are one-bedroom apartments, 79 are two-bedroom apartments, and 10 are three-bedroom apartments.
Rent for the smallest units starts at $1,000 a month and goes up from there.
A lot of comments are suddenly coming out of Heritage Hills about this project. I gave a critical eye to Brooks' proposal when these bids first came in, and regular readers of OKC Central will recall I pointed out several cases where the evaluation conducted by Urban Renewal staff was flawed. I will use the same critical eye in examining arguments by Heritage Hills against The Edge.
While the story is still in the works, let's kill another rumor going around in the neighborhood: that this will be  a HUD Section 8 complex. That is entirely false. The Edge will be financed through the same HUD financing program that was used for the Sieber Hotel Apartments. It's also the same financing mechanism that Heritage Hills resident and competing developer Chuck Wiggin was proposing for his project.
---
AS A QUICK UPDATE: I've been so busy covering the Mercy site development I've not added what is obvious from the comments attached – that this incredible photo was taken by COOPER ROSS. As always I try to give credit where credit is due, and when I first saw this posted via Will, I didn't see a photographer credit attached to its original posting on the Chesapeake Facebook page. Cooper, please accept my apology and know we all found this photo to be a great capture of our changing skyline.
---

So now that we've gotten a good look at the Skydance bridge, both daytime and nighttime, in its completed form, let's look back at the original designs conceived before ODOT and others added requirements that made the original design cost prohibitive.
The above rendering is especially interesting to view in light of the photos taken by Will Hider on New Year's Eve. The metal rope cable system is obviously eliminated, but the sculpture itself is much more elaborate, with "feathers" and multi-colored lighting throughout the skeleton replacing what otherwise would have been a smooth steel surface bathed in regular white sculpture style lighting.
To see more original renderings, go here.
---
Louisa McCune asks why is there no free downtown-wide wireless network?
The answer requires a bit more context than what can be provided through a 140-character response on Twitter.
There was a time when such a system was contemplated. Consider this story from Oklahoman archives:
Downtown to have wireless 'hot spots'

Chamber dangles $150,000 incentive

By Steve Lackmeyer

Business Writer

Thursday, June 29, 2006

Edition: CITY, Section: BUSINESS, Page 1B

The Greater Oklahoma City Chamber is dangling a $150,000 incentive as part of a request issued Wednesday to Internet providers to create wireless "hot spots" downtown and along the Oklahoma River.

The request for proposals proposes establishing the "hot spots" — places where wireless Internet connections are available to the public — in Bricktown, the Arts District and Myriad Gardens, the Oklahoma City National Memorial, the Oklahoma River and the future American Indian Cultural Center.

Chamber president Roy Williams said the "potential" $150,000 assistance would come from community partners — possibly including the city — and is meant to show a willingness to share in the risk.

"In the event that would make a difference, that someone saw the community being a partner as being critical, we would consider that," Williams said. "We want to make sure people understand there is some infrastructure assistance."

Williams hopes the hot spots can be in place by later this year. Responses to the request will be due July 31.

Wireless hot spots were ranked among the city's top needs in the fall 2004 "Project Next" forum at the Cox Convention Center, and is touted by the chamber as a key to promoting tourism and convention business.

Rhonda Hooper, chief executive of Jordan Associates and co-chairman of chamber's Wi-Fi committee, said planning for the proposal request started in January 2005. Discussions initially focused on possibly of expanding use of a citywide municipal wireless system being constructed for public safety.

But that idea was discarded, Hooper said, when the committee learned of quality assurance issues and risks to the city's system.

But the urgency of establishing some "hot spots" grew with recent listings ranking Oklahoma City 82nd among 100 major cities in providing wireless Internet access.

"We've talked to a lot of people, we've done our due diligence," Hooper said. "Technology has changed rapidly — every month it seems. We didn't want to just jump into this."

Hooper said the chamber's request envisions a system that is supported by advertising or sponsorship revenues, and would be self supporting.

Efforts already are underway to create hot spots at State Fair Park and the Cox Convention Center. Access is already in place at Will Rogers World Airport.

Williams said potential contributors to a system could include downtown housing developers and businesses wishing to enhance services to customers.

"We believe Oklahoma City is as technologically savvy as any place in the nation," Williams said. "This project will help display the ingenuities and knowledge of our community."
SO, WHY IS THERE NO DOWNTOWN FREE WIRELESS FIVE YEARS LATER?
In April, 2009, I got the following explanation:
"We got involved thinking it was something we needed to do because Oklahoma City had to have it," said Drew Dugan, who oversaw the project on behalf of the chamber. "Once we got into it, we realized the bottom line was the private market was already providing that service. With all the 3G technology coming online, people can get connected with any device they want with a pretty low cost."

The chamber's decision to drop the wireless effort was followed by announcements in Philadelphia and San Francisco that provider Earthlink was going to cease service that was similar to that of the service Oklahoma City was hoping to establish.

"The bottom line is, if you look around the country, most of the folks who spent time doing wireless systems found out it's a waste of money," Dugan said.
Now, all that being said, two major wireless providers provide free connections in Bricktown. And I can't remember a time since either system went live when I could rely on either signal for very long.
---
Will Hider, a frequent contributor to OKC Central, has once again captured some stunning images of our ever changing downtown skyline. If this how the start of 2012 looks, I can't wait for the end!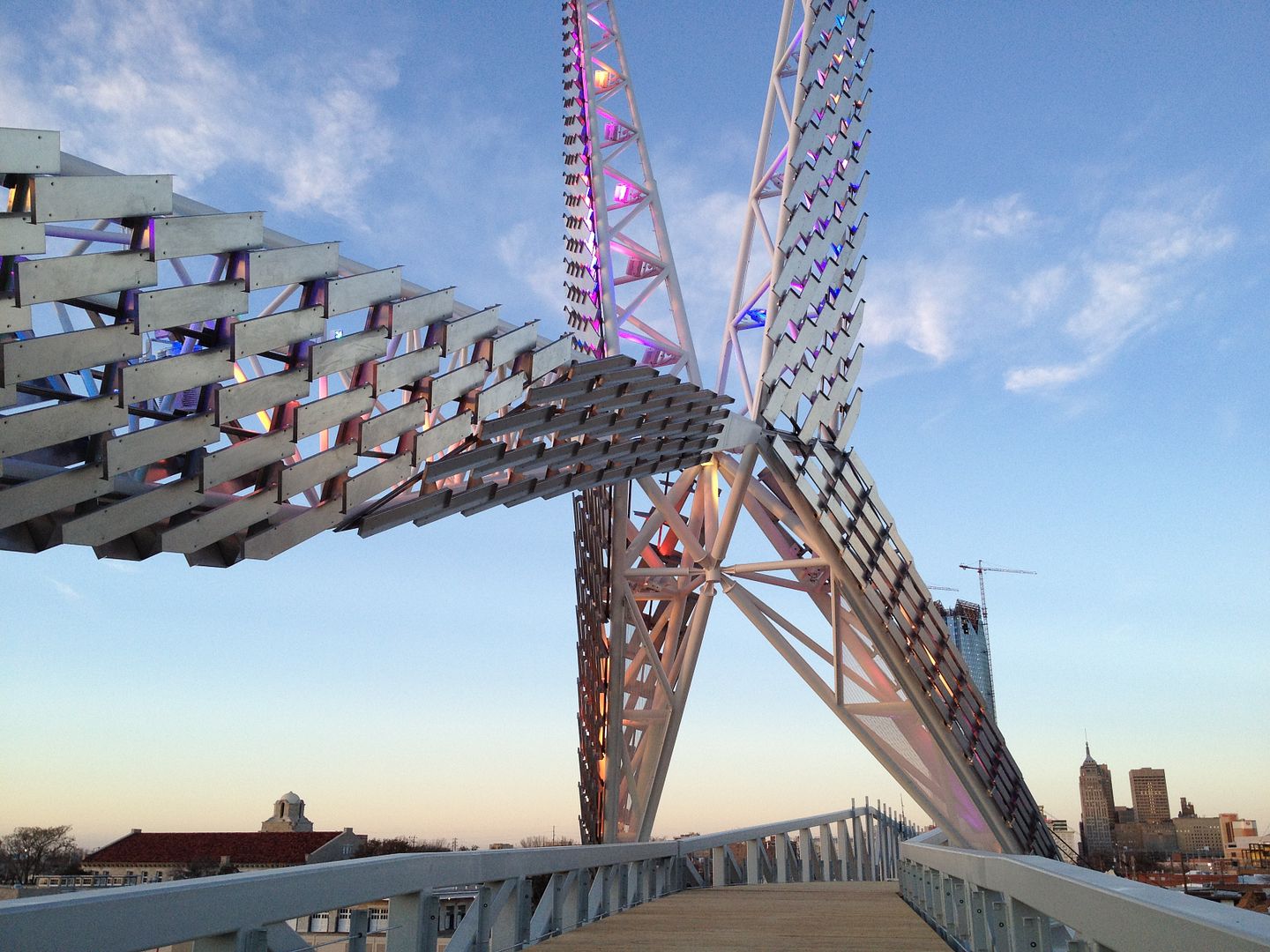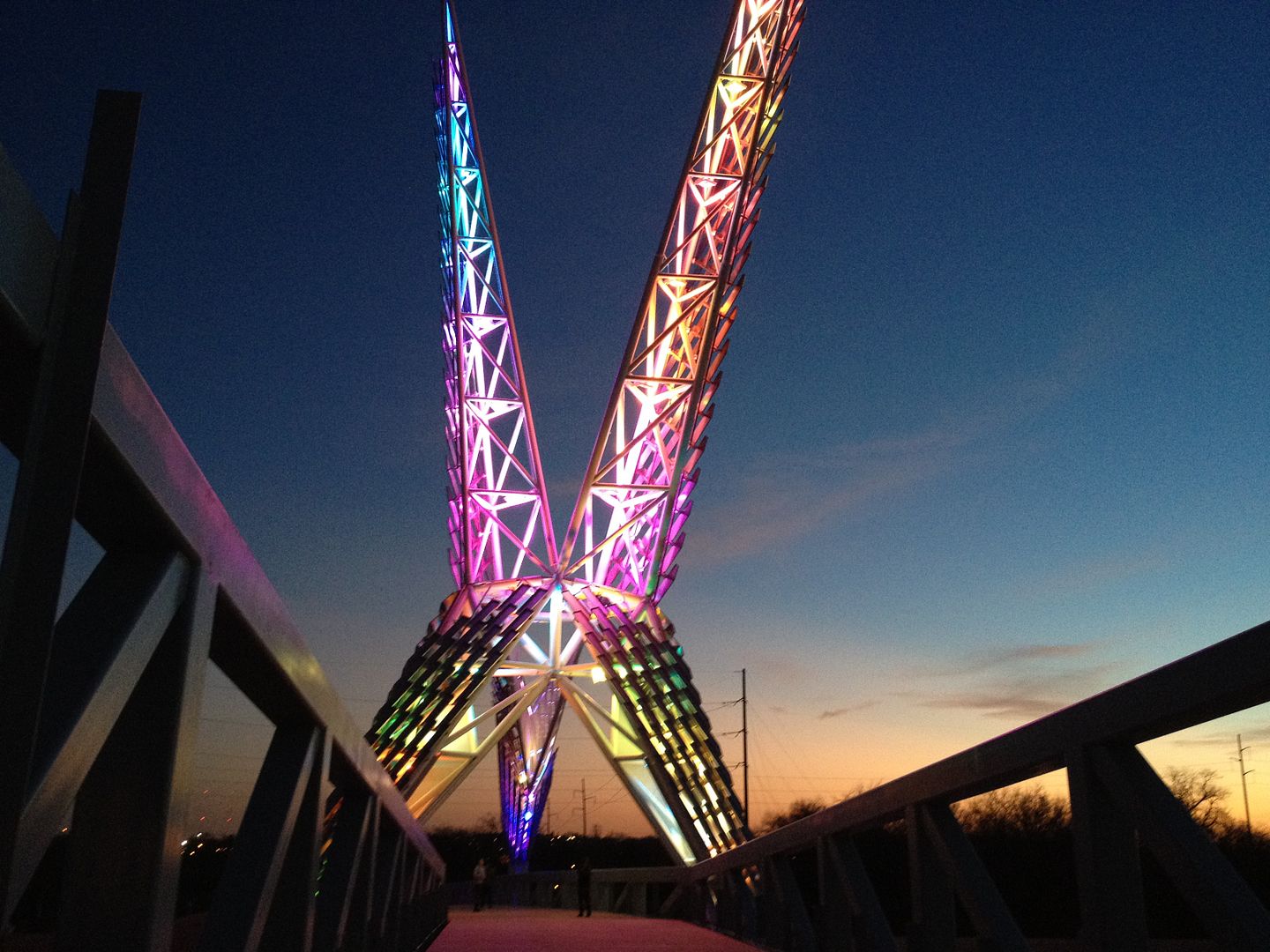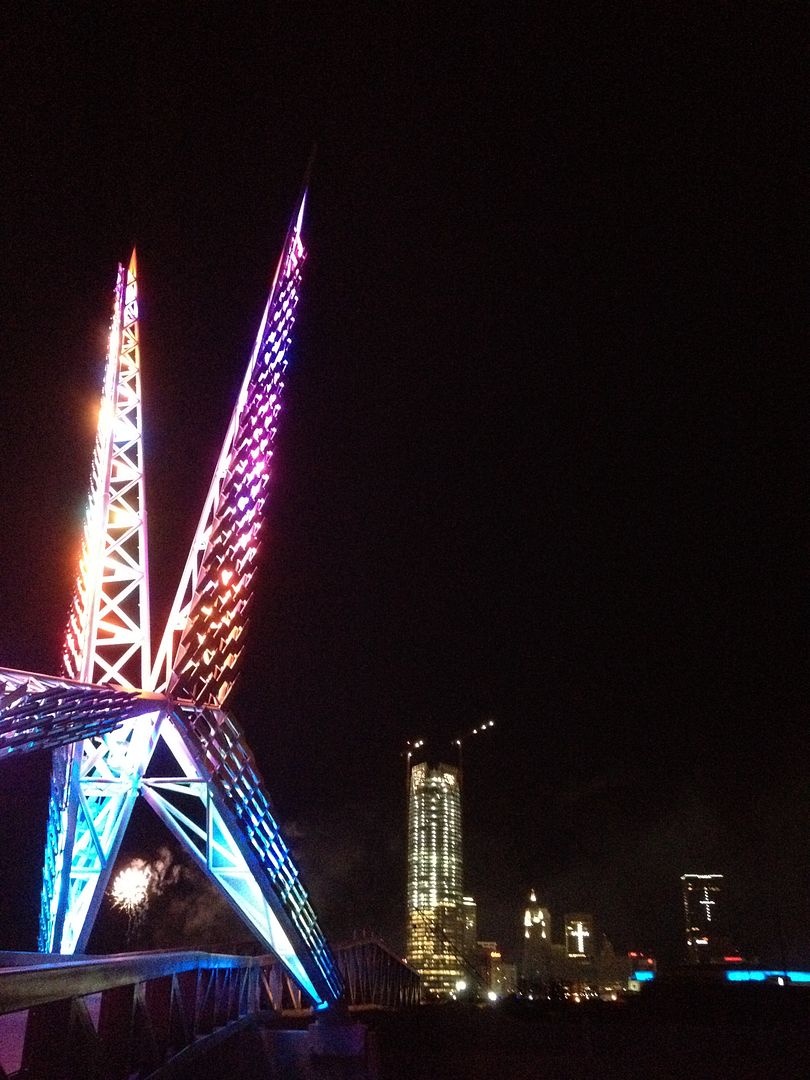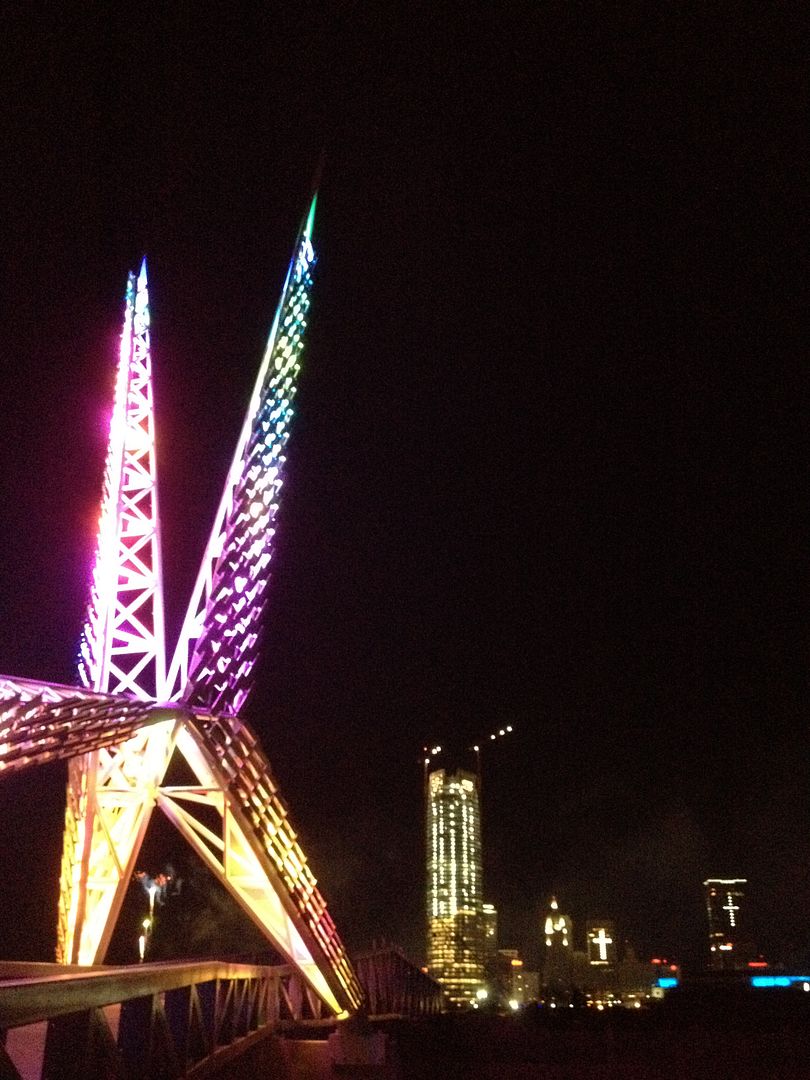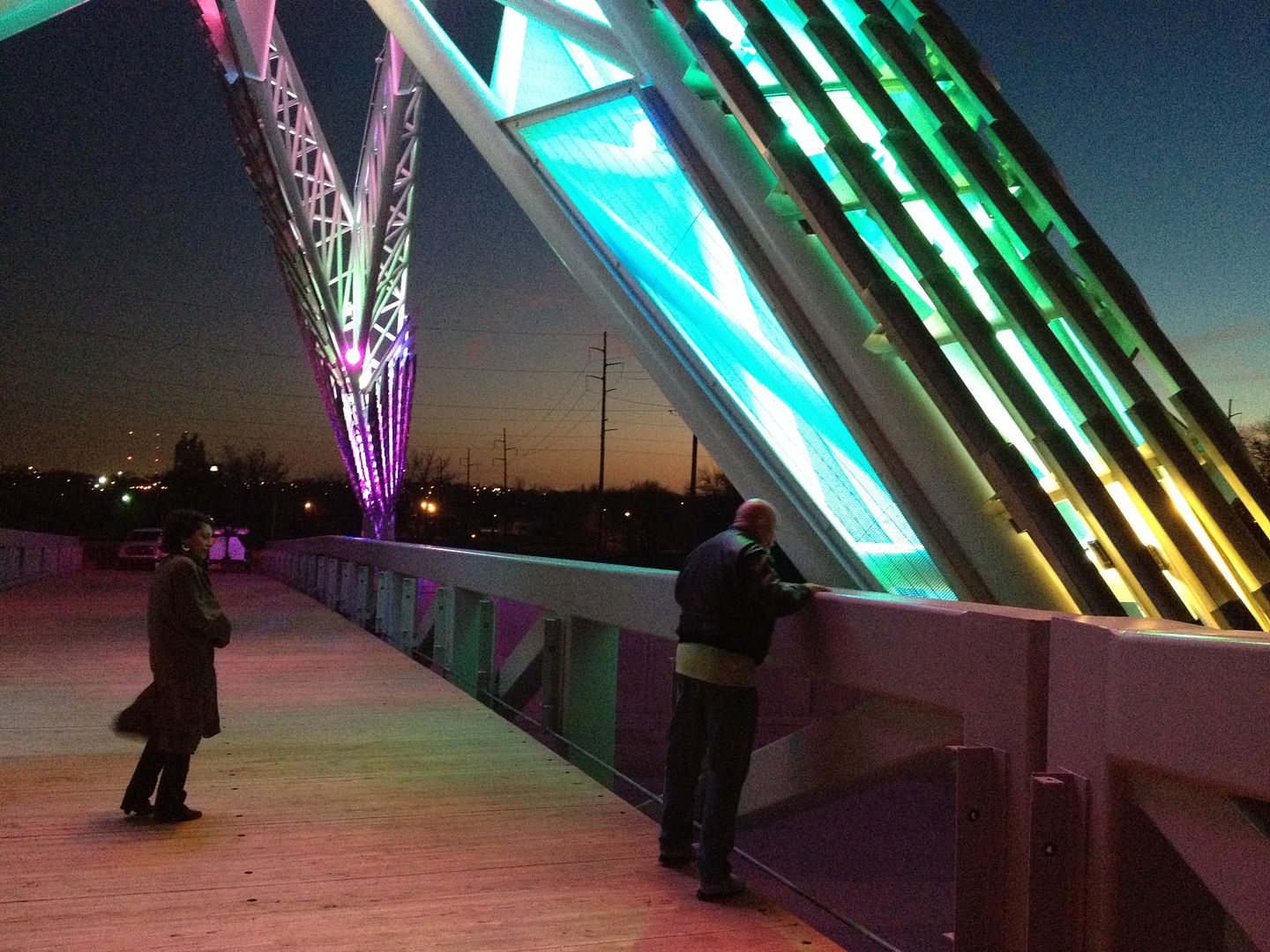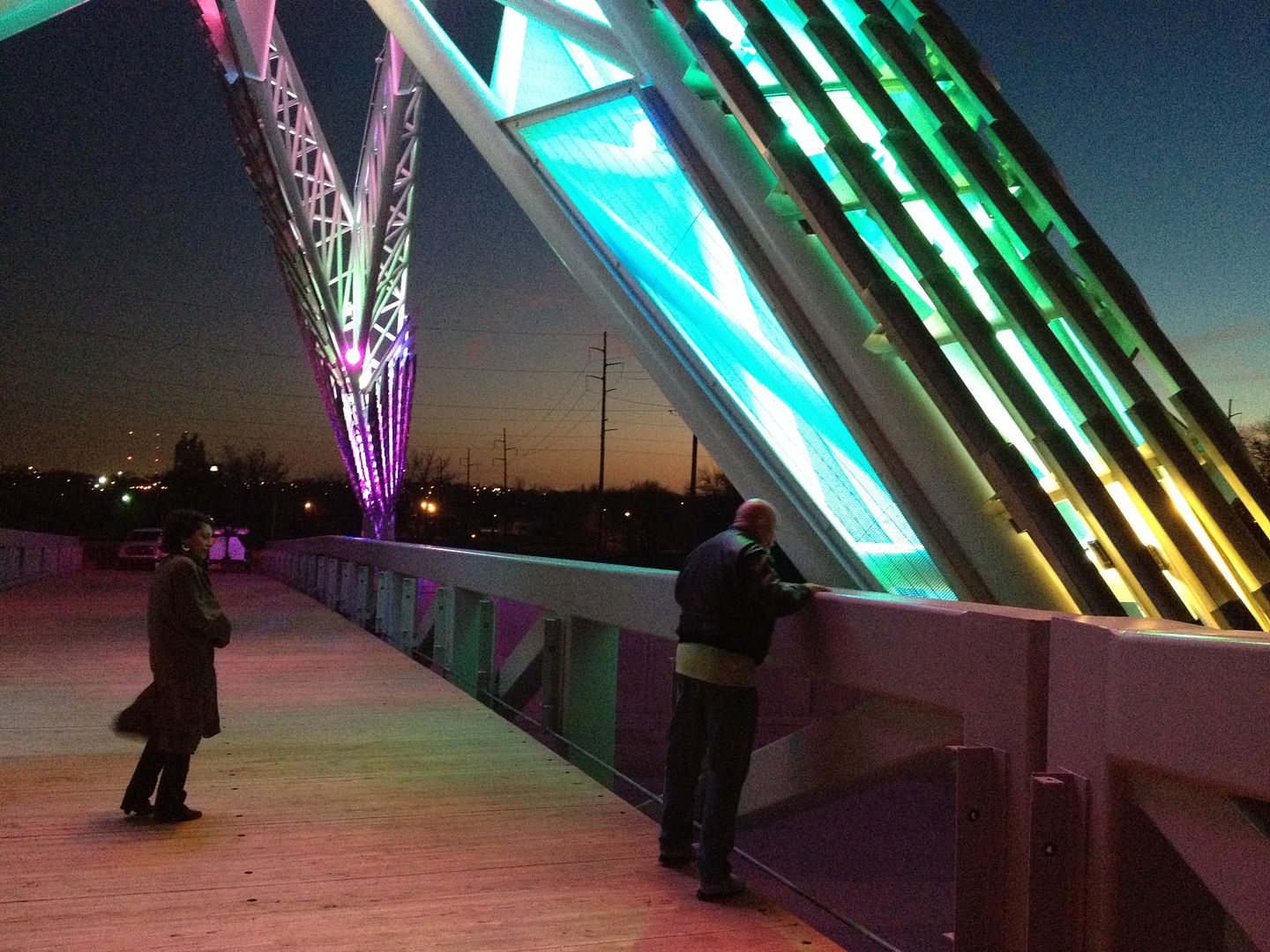 To view all of Will's stunning photography, visit http://s83.photobucket.com/profile/UnFrSaKn
---