Code Enforcement 101 
Tall Grass and Weeds?
Yard Parking?
Unsafe structure?
Inoperable Vehicle?
Graffiti?
What can citizens do to keep their neighborhood free from such eyesores and hazards?
Attend this workshop to find out!
You'll hear an overview of the city's Action Center from Manager Beth Crounse, learn how to effectively identify and report code violations and how to follow up. Then, in speed-dating format, you'll have the opportunity for face-to-face discussion with city department heads to ask questions, make suggestions and get answers.
The Action Center is a key tool in your campaign to clean up your neighborhood and keep it safe, beautiful and healthy. Learn how to put it to the best use!
This event is free but you must register in advance.
2012-05-24T18:30:00-0500 2012-05-24T20:30:00-0500 Code Enforcement 101 4205 North Lincoln Boulevard, Oklahoma City, OK, US http://events.r20.constantcontact.com/register/event?llr=hyrq7ycab&oeidk=a07e5siwgu3c2bed53a
---
Neighborhood Alliance recently hosted two forums with the City of OKC on the topic of abandoned and neglected properties in OKC. They were two of the most popular workshops we have ever held, with preregistration filling to capacity within a day. Russell Claus, OKC's Director of Planning and the impetus for the forums, remarked, "I guess we hit a nerve."
These two sessions were only the beginning of the conversation on Abandoned Properties. There is still a lot to be learned and a lot of citizens to be heard. To help this conversation along, we have provided some links below that we hope you will find useful:
House Bill 1893
 - this legislation in this bill will allow the city and to take more forceful steps toward meeting this growing threat head on
Please make the time to take this survey and forward the link to your neighbors. This problem is growing in OKC and costing each of us.
---

Beautification Station- Cruisin' OKC 
Grab your friends and neighbors and jump on the bus to see OKC like never before! The sixth annual Beautification Station…Cruisin' OKC bus tour will be from 9:00am to 1:00pm on Saturday, June 2, 2012, with lunch being served from noon to 1:00pm. Sign-in opens at 8:30am on June 2 at OSSM (Oklahoma School of Science and Mathematics)
This totally free, professionally guided tour will be conducted on an air-conditioned chartered bus. We will drive you around OKC and show you volunteer-driven neighborhood revitalization projects that will leave you bursting with pride for the citizens of this great city and all that they have accomplished. At each stop we will get off the bus and explore, close up, community landscaping, parks, street lighting and gateway projects, as well as successful public-private partnerships, all aimed at making OKC a more beautiful place to live.
After the tour attendees can enjoy a free lunch, provided by Panera Bread, back at OSSM.  This event is free and open to the public but reservations are required. Seating is limited for this event so reserve your seat today!
Sponsored by The Alliance for Economic Development of Oklahoma City, OKC Beautiful, Neighborhood Alliance, and the Oklahoma City Community Foundation.
This event is not suitable for children under 12 and YOU MUST  pre-register for the event.  Seats fill up fast so register today! 
Contact:
Jennifer 
Neighborhood Alliance 
jenniferm@nacok.org 
405-528-6322 
When
Saturday June 2, 2012 precisely at 9:00 AM (boarding starts at 8:30am) 
to
Saturday June 2, 2012 at 1:00 PM 
Where
OSSM 
1141 North Lincoln Boulevard
Oklahoma City 73104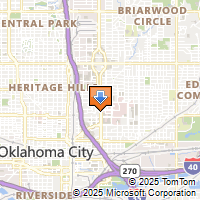 Driving Directions 
2012-06-02T09:00:00-0500 2012-06-02T13:00:00-0500 Beautification Station- Cruisin' OKC 1141 North Lincoln Boulevard, Oklahoma City, 73104, US http://events.r20.constantcontact.com/register/event?llr=hyrq7ycab&oeidk=a07e5u0g8nm9455c82e
Presents
Beautification Station: Cruisin' OKC
Hosted by 
---
All of the OKC residents are bursting with pride in what is happening in this City.  Bricktown, Devon Tower, Thunder, low unemployment and  low cost of living all contribute to a great feeling of pride that is city wide right now.   At Neighborhood Alliance we too are proud of this world-class City atmosphere we have all helped create, but we are bursting with pride over the smaller accomplishments…the beautiful, unique neighborhoods that we all call home.
We are proud of Meadowbrook Acres, located at the base of the energy giant, Chesapeake.  They are a small, artsy kind of neighborhood with a rich history.  When they saw their neighborhood being swallowed up they went knocking on the giants door.  After all, that is what neighbors do.  The giant talked with them and together they created a plan to save the neighborhood and to even make some improvements.  They were not intimidated by the wealth or size of Chesapeake, they treated them just like a neighbor and it worked. 
We are proud of Mayfair West, located along N. May Ave. near NW 45th St.  This neighborhood is filled with tidy, mid-century modern homes and young couples with young children.  They created a Neighborhood Association that is unique and fits their needs:  they have scrapbooking classes, decorating swap meets, wine and cheese parties, and neighborhood wide play dates for the kids.  They are a social, relatively crime free neighborhood that has people snatching up homes as soon as they go on sale.  The neighborhood association worked hard to create that feel and they have succeeded.
We are proud of College Hill neighborhood located near the beautiful Mt. St. Mary's High School on SW 25th St.  This predominately Hispanic neighborhood has a very active neighborhood association that has raised money to install beautiful ornamental lights, participated in a "front porch" project where they remodeled the front porches of 6 seniors in the neighborhood so they could spend more time outdoors and be part of the social feel of those around them, and they are currently taking orders for homemade tamales to raise funds for their future projects.  They are a tidy, well kept, tight neighborhood that meets the needs of their neighbors and the Association is proud of all it has accomplished. 
We could go on forever talking about the over 400 different neighborhood associations in the OKC area and how they all contribute to making this City the 'world-class' community that it is.  It makes it easier to persuade corporations like Boeing and Dell to locate in our City when their executives see the great neighborhoods their employees can call home.         
Neighborhood Alliance is a 35 year old non-profit agency housed in the old firehouse at NW 36th and Classen and provides services to over 400 different neighborhoods throughout the Metro OKC.  Becoming a neighborhood leader and organizing and maintaining a neighborhood does not come easy.  That is why all neighborhoods depend on the work of Neighborhood Alliance.  Through seminars, training classes and one-on-one advocacy neighborhoods receive the tools needed to make each neighborhood safe, beautiful and healthy. 
As a non-profit organization Neighborhood Alliance is dependant on donations to exist and April through June is the annual fundraising drive.  When you donate to Neighborhood Alliance you are supporting the fabric of our City and  great neighborhoods like Meadowbrook Acres, Mayfair Heights,  College Hill or even your own neighborhood.  Tax deductible donations can be made through the website at www.nacok.org or by mailing a check to Neighborhood Alliance, 1236 NW 36th St., Okc, Ok, 73118. 
After all, what good is Bricktown or a Thunder game if we don't have safe and great neighborhoods to go home to when the downtown fun is all over?
---