Code Enforcement 101 
Tall Grass and Weeds?
Yard Parking?
Unsafe structure?
Inoperable Vehicle?
Graffiti?
What can citizens do to keep their neighborhood free from such eyesores and hazards?
Attend this workshop to find out!
You'll hear an overview of the city's Action Center from Manager Beth Crounse, learn how to effectively identify and report code violations and how to follow up. Then, in speed-dating format, you'll have the opportunity for face-to-face discussion with city department heads to ask questions, make suggestions and get answers.
The Action Center is a key tool in your campaign to clean up your neighborhood and keep it safe, beautiful and healthy. Learn how to put it to the best use!
This event is free but you must register in advance.
2012-05-24T18:30:00-0500 2012-05-24T20:30:00-0500 Code Enforcement 101 4205 North Lincoln Boulevard, Oklahoma City, OK, US http://events.r20.constantcontact.com/register/event?llr=hyrq7ycab&oeidk=a07e5siwgu3c2bed53a
---
Neighborhood Alliance recently hosted two forums with the City of OKC on the topic of abandoned and neglected properties in OKC. They were two of the most popular workshops we have ever held, with preregistration filling to capacity within a day. Russell Claus, OKC's Director of Planning and the impetus for the forums, remarked, "I guess we hit a nerve."
These two sessions were only the beginning of the conversation on Abandoned Properties. There is still a lot to be learned and a lot of citizens to be heard. To help this conversation along, we have provided some links below that we hope you will find useful:
House Bill 1893
 - this legislation in this bill will allow the city and to take more forceful steps toward meeting this growing threat head on
Please make the time to take this survey and forward the link to your neighbors. This problem is growing in OKC and costing each of us.
---

Beautification Station- Cruisin' OKC 
Grab your friends and neighbors and jump on the bus to see OKC like never before! The sixth annual Beautification Station…Cruisin' OKC bus tour will be from 9:00am to 1:00pm on Saturday, June 2, 2012, with lunch being served from noon to 1:00pm. Sign-in opens at 8:30am on June 2 at OSSM (Oklahoma School of Science and Mathematics)
This totally free, professionally guided tour will be conducted on an air-conditioned chartered bus. We will drive you around OKC and show you volunteer-driven neighborhood revitalization projects that will leave you bursting with pride for the citizens of this great city and all that they have accomplished. At each stop we will get off the bus and explore, close up, community landscaping, parks, street lighting and gateway projects, as well as successful public-private partnerships, all aimed at making OKC a more beautiful place to live.
After the tour attendees can enjoy a free lunch, provided by Panera Bread, back at OSSM.  This event is free and open to the public but reservations are required. Seating is limited for this event so reserve your seat today!
Sponsored by The Alliance for Economic Development of Oklahoma City, OKC Beautiful, Neighborhood Alliance, and the Oklahoma City Community Foundation.
This event is not suitable for children under 12 and YOU MUST  pre-register for the event.  Seats fill up fast so register today! 
Contact:
Jennifer 
Neighborhood Alliance 
jenniferm@nacok.org 
405-528-6322 
When
Saturday June 2, 2012 precisely at 9:00 AM (boarding starts at 8:30am) 
to
Saturday June 2, 2012 at 1:00 PM 
Where
OSSM 
1141 North Lincoln Boulevard
Oklahoma City 73104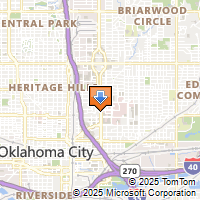 Driving Directions 
2012-06-02T09:00:00-0500 2012-06-02T13:00:00-0500 Beautification Station- Cruisin' OKC 1141 North Lincoln Boulevard, Oklahoma City, 73104, US http://events.r20.constantcontact.com/register/event?llr=hyrq7ycab&oeidk=a07e5u0g8nm9455c82e
Presents
Beautification Station: Cruisin' OKC
Hosted by 
---
All of the OKC residents are bursting with pride in what is happening in this City.  Bricktown, Devon Tower, Thunder, low unemployment and  low cost of living all contribute to a great feeling of pride that is city wide right now.   At Neighborhood Alliance we too are proud of this world-class City atmosphere we have all helped create, but we are bursting with pride over the smaller accomplishments…the beautiful, unique neighborhoods that we all call home.
We are proud of Meadowbrook Acres, located at the base of the energy giant, Chesapeake.  They are a small, artsy kind of neighborhood with a rich history.  When they saw their neighborhood being swallowed up they went knocking on the giants door.  After all, that is what neighbors do.  The giant talked with them and together they created a plan to save the neighborhood and to even make some improvements.  They were not intimidated by the wealth or size of Chesapeake, they treated them just like a neighbor and it worked. 
We are proud of Mayfair West, located along N. May Ave. near NW 45th St.  This neighborhood is filled with tidy, mid-century modern homes and young couples with young children.  They created a Neighborhood Association that is unique and fits their needs:  they have scrapbooking classes, decorating swap meets, wine and cheese parties, and neighborhood wide play dates for the kids.  They are a social, relatively crime free neighborhood that has people snatching up homes as soon as they go on sale.  The neighborhood association worked hard to create that feel and they have succeeded.
We are proud of College Hill neighborhood located near the beautiful Mt. St. Mary's High School on SW 25th St.  This predominately Hispanic neighborhood has a very active neighborhood association that has raised money to install beautiful ornamental lights, participated in a "front porch" project where they remodeled the front porches of 6 seniors in the neighborhood so they could spend more time outdoors and be part of the social feel of those around them, and they are currently taking orders for homemade tamales to raise funds for their future projects.  They are a tidy, well kept, tight neighborhood that meets the needs of their neighbors and the Association is proud of all it has accomplished. 
We could go on forever talking about the over 400 different neighborhood associations in the OKC area and how they all contribute to making this City the 'world-class' community that it is.  It makes it easier to persuade corporations like Boeing and Dell to locate in our City when their executives see the great neighborhoods their employees can call home.         
Neighborhood Alliance is a 35 year old non-profit agency housed in the old firehouse at NW 36th and Classen and provides services to over 400 different neighborhoods throughout the Metro OKC.  Becoming a neighborhood leader and organizing and maintaining a neighborhood does not come easy.  That is why all neighborhoods depend on the work of Neighborhood Alliance.  Through seminars, training classes and one-on-one advocacy neighborhoods receive the tools needed to make each neighborhood safe, beautiful and healthy. 
As a non-profit organization Neighborhood Alliance is dependant on donations to exist and April through June is the annual fundraising drive.  When you donate to Neighborhood Alliance you are supporting the fabric of our City and  great neighborhoods like Meadowbrook Acres, Mayfair Heights,  College Hill or even your own neighborhood.  Tax deductible donations can be made through the website at www.nacok.org or by mailing a check to Neighborhood Alliance, 1236 NW 36th St., Okc, Ok, 73118. 
After all, what good is Bricktown or a Thunder game if we don't have safe and great neighborhoods to go home to when the downtown fun is all over?
---
In OKC we are proud of our unique neighborhoods.  From the quirky Paseo District, to the historic Edgemere Park to the beautifully manicured Cleveland, we have neighborhoods of all flavors!  If you love OKC and her hidden jewels, then join us for Neighborworks Week, June 4-9.   All OKC residents, church groups, business groups, corporations, Scout troops, etc. are asked to volunteer their efforts in one of 5 different  low income neighborhoods to show them we all care! 
During Neighborworks Week we will join hundreds of other Cities from across the United States in doing something to honor the value of Neighborhoods and the role they play in our quality of life.  In OKC we are concentrating our efforts on 5 low income neighborhoods:  Classen Ten Penn (near NW 16th and Classen), Culbertson East Highland (near NW 8th and Lottie), The Paseo and Jefferson Park area (near NW 23rd between Robinson and Western), Capitol Hill (near SW 25th and Western), and Classens North Highland Parked (near NE 13th and Walnut) . 
The residents in all of these neighborhoods have already met and created long range and short range goals for their future.  They will be working to improve their neighborhoods over the next several years in hopes of creating a more beautiful, safer and healthier living environment for all residents.  During Neighborworks Week we are asking all residents of OKC to help them  "kick-start" their revitalization efforts by volunteering in these neighborhoods.  
No matter where you live, we all need to work together to strengthen each other's environment.  During the first week of June volunteers will help plant flowers, paint structures, pick up trash, revamp park equipment, plants trees…and just show the residents of these neighborhoods that their City is behind them and they can make their neighborhood dreams come true. 
Grab you co-workers, your neighbors, your friends or your social group and call Neighborhood Alliance (528-6322) to sign up today.  You can choose any day and any time during the day to volunteer. Your group will be given specific instructions, locations and tools needed to do your volunteer job. 
All volunteers will be honored at a picnic on Saturday, June 9 from 11am-1pm.  Contact Neighborhood Alliance at 528-6322 or Georgie@nacok.org to get more information on how you can sign up to participate. 
Neighborworks Week is sponsored by Neighborhood Alliance, The City of OKC and Neighborhood Housing Services.
---
My mother in law has spent the vast majority of her life in Hinton, Ok.  When she was a little girl her grandfather helped build a long, graceful bridge between Hinton and the nearby Geary, Ok. which is still heavily traveled today.  Once the bridge was compete the workers invited their families and townspeople to a huge party on the bridge. 
Even now,when driving across the bridge this vibrant 78 year old woman proudly points out, "One time I got to dance right there!"   Through her memories I can  imagine the party, the music, and the civic pride that created an excitement they could not contain….they just had to dance!   
Over the last few years, as I watched the I-40 construction with fascination, I secretly hoped I would have an opportunity "to dance right there" before it was opened.  Then it happened…I received the invitation from ODOT…"Neighborhood Alliance is invited to join us for the grand opening of the new I-40."  I could hardly read it because  I was shaking with excitement! 
Now you have to understand, this massive construction site has been a fascination of mine for years.  I poured over the maps, tried in vain to figure out exactly where "my exit' would be, drove friends and family over to watch the construction, felt enormous pride when I saw the decorative bridge at Pennsylvania Avenue open up, and often felt like an I-40 stalker because I was so fascinated with the process. 
To get the invitation was like being asked to be "milk monitor" in 3rd grade…it was special and only a few got the privilege!    I would be surrounded by I-40aphiles just like me!  These people would understand when I talked in awe of the huge concrete art tiles, the mounds of dirt that were excavated , and the highly anticipated scissor tail fly catcher sculpture that sits atop the roadway.  I would be among my people! 
I invited my co-worker Jennifer to go with me on the much anticipated day.  We drove to the site and were immediately asked if we were there for the convoy (the first 100 cars on the roadway) or if we were dignitaries.  We looked at each other and then responded with confidence, "convoy!"  The flag-man then waved us to the west, stating, "you will have to park down there after that last tractor trailer" which was about 1.2 miles down the road!!!  Quite a walk back to the ceremony site in our cute dress clothes we wore for the special occasion!  So we re-thought our status, and told him we must have been mistaken, we were really dignitaries.  He looked a bit puzzled but politely told us to park up closer to the staging area.   
It was a party atmosphere… a loud speaker boomed fun music,  free cupcakes and coffee were being passed out, there were commemarative post card books depicting the history of the project, national and local officials were abundant,  people were laughing and carrying on with palpable giddiness. 
We were all carried away by the significance of this day!  I-40 was re-opening and in some small way it was as if each one of us took some ownership in this.  Not that it was really warranted…demanding that unwilling family and friends look on in awe with you at construction sites is not really participating in the overall project!  But none the less, ODOT and the other hosts helped make me feel as though it was all because of me that they were able to get his massive project to this point! 
While waiting for the real dignitaries to make their official speeches, standing under the Western Avenue bridge on the brand new, not-yet-driven cement of I-40, with all the drunken abandon of free cupcakes and beautiful Oklahoma weather, I looked at Jennifer and said, "I have to dance!" 
And dance I did!  Just a little jig…but it was a fearless, full of pride kind of dance!   And believe me, if you are ever in the car with me while we drive I-40, and even when I am 78, I will proudly say as we pass the Western Ave. bridge, "One day I danced right there, cupcake in hand, civic pride took over and I had to dance!" 
I love the feeling we get when as a whole we accomplish something that none of us could do alone.   I didn't turn one shovel of dirt that it took to build I-40 yet I feel like it is as much my project as it is ODOT's, the City of OKC, the engineers, or the multitudes of workers who really built it.  I am their biggest fan…but I am also their silent partner.  Just back here dancing on one of the grandest pieces of construction ever built in our state!  Congrats to all of us!
---