Beautification Station- Cruisin' OKC 
Grab your friends and neighbors and jump on the bus to see OKC like never before! The sixth annual Beautification Station…Cruisin' OKC bus tour will be from 9:00am to 1:00pm on Saturday, June 2, 2012, with lunch being served from noon to 1:00pm. Sign-in opens at 8:30am on June 2 at OSSM (Oklahoma School of Science and Mathematics)
This totally free, professionally guided tour will be conducted on an air-conditioned chartered bus. We will drive you around OKC and show you volunteer-driven neighborhood revitalization projects that will leave you bursting with pride for the citizens of this great city and all that they have accomplished. At each stop we will get off the bus and explore, close up, community landscaping, parks, street lighting and gateway projects, as well as successful public-private partnerships, all aimed at making OKC a more beautiful place to live.
After the tour attendees can enjoy a free lunch, provided by Panera Bread, back at OSSM.  This event is free and open to the public but reservations are required. Seating is limited for this event so reserve your seat today!
Sponsored by The Alliance for Economic Development of Oklahoma City, OKC Beautiful, Neighborhood Alliance, and the Oklahoma City Community Foundation.
This event is not suitable for children under 12 and YOU MUST  pre-register for the event.  Seats fill up fast so register today! 
Contact:
Jennifer 
Neighborhood Alliance 
jenniferm@nacok.org 
405-528-6322 
When
Saturday June 2, 2012 precisely at 9:00 AM (boarding starts at 8:30am) 
to
Saturday June 2, 2012 at 1:00 PM 
Where
OSSM 
1141 North Lincoln Boulevard
Oklahoma City 73104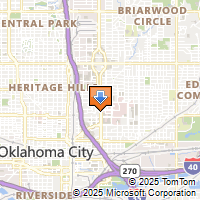 Driving Directions 
2012-06-02T09:00:00-0500 2012-06-02T13:00:00-0500 Beautification Station- Cruisin' OKC 1141 North Lincoln Boulevard, Oklahoma City, 73104, US http://events.r20.constantcontact.com/register/event?llr=hyrq7ycab&oeidk=a07e5u0g8nm9455c82e
Presents
Beautification Station: Cruisin' OKC
Hosted by 
Categorized under:

Thank you for joining our conversation on Neighborhood Alliance. We encourage your discussion but ask that you stay within the bounds of our commenting and posting policy.