I'm at my desk, which is, you know, indoors. I'm freezing. It seems like everywhere I go, I'm freezing.
Remember when it was 70 degrees?
Oh right. That was Friday.
Oklahoma weather is ridiculous, and I am a 100 percent certified cold-weather wimp. I have been using it as an excuse to skip morning runs. "It's daaark and cooold! I can't go today!" Then it occurred to me, it will be dark and cold for all of winter. This doesn't bode well for a half-marathon at the end of March.
So I have two options: get a gym membership or bundle up like Ralphie's little brother from "A Christmas Story." Because I'm being cheap and stubborn, I'm choosing the second option. Here's what Runner's World says you should wear in the cold:
50°F and Up
Bottoms: Consider a longer-cut short than you'd wear in the summer, or wear capris.
Tops: A long-sleeve technical shirt, or a short-sleeve shirt and arm warmers. Thin vest.
Add: A lightweight baseball cap–style hat.

35°–50°F
Bottoms: Capris or three-quarter-length tights. Alternatively: long tights or pants.
Tops: Layer two long-sleeve shirts, or wear one long-sleeve with a breathable wind- or waterproof jacket, a thicker vest, or a thin midlayer.
Add: A wicking beanie, thin gloves.

20°–35°F
Bottoms: Brushed tights or pants; consider a pair of wool underwear. Wear socks high enough to cover any exposed skin.
Tops: Double up on long-sleeve shirts, or wear a long-sleeve shirt with a thin midlayer and thin jacket, or a heavier version of either.
Add: Beanie hat, thicker gloves. Sunglasses protect your eyes from chilly gusts. (Consider clear lenses on cloudy days.)

0°–20°F
Bottoms: Brushed, insulated tights or pants made of wind- and water-blocking fabrics.
Tops: A long-sleeve shirt tucked into your bottoms and/or a midlayer that zips up to protect your neck, plus an insulated jacket. Long socks.
Add: A scarf or "gaiter" around your neck that you can pull over your chin and mouth. A warm beanie that covers your ears. Thick gloves that fit snugly. Sunglasses.

Below 0°F
You're kidding, right? Hit the treadmill!
---
Apparently, people can run in the snow. I would not know this from first-hand experience because I am a huge wimp who's terrified of slipping and falling and laying stranded somewhere awkward until a random passer-by stops and calls 911. Nevertheless, running in the snow apparently does happen in some locations. Weird.
Here are some tips from Runner's World on the experience most of us who live in Oklahoma don't have to mess with but for a few times a year:
- Wear trail shoes.
- Run in fresh snow instead of the packed-down stuff if you can.
- Take teeny tiny steps.
- Run slowly. (Check! I'm super good at this.)
- Don't run in snow every day. It uses those weird muscles that hibernate until you do some kind of strange exercise. Those are the ones that hurt the most. So run inside and outside – not outside all the time.
- Walk over ice. Seriously. Running on ice is just dumb.
---
The U.S. Consumer Products Safety Commission has issued a recall for the Baby Jogger City Versa strollers. Click here for more info. Here's a picture of the recalled strollers.
---
I took my new shoes out for a test run this morning.
It was awkward.
I've only ever had one pair of running shoes. That's right. I've had one pair of running shoes that I've used for three half marathons during the past two years. Yikes. Apparently this is bad.
My new Nikes look kind of like these, only they're dark purple. They're super light and feel nicer on my back than my Asics. I don't know yet if that's because my Asics were so old or if it's because they're better for me.
It felt strange running in new shoes. It was like a first date – awkward, uncomfortable, weird. My old ones have been with me for so many miles. What do I do with them? I didn't throw them away or give them away or anything. They're just in my running bag, looking lonely. I guess I'll figure out what to do with them later.
The new ones made me feel a little creaky in the knees, but maybe they need some more break-in time. We'll see. At least thing time I'm going to try not to keep them for two years.
---
It's time to be honest with yourself. Are you really ever going to play hockey again? I mean, maybe. But do your knees think you should play hockey again? Exactly.
Or, maybe you're like me: you just keep playing sports despite the fact you suck and are getting older by the day. You continue buying new stuff, hoping this will somehow make you run faster and jump higher. Or mabye just run less slow and jump less like a drunken snowman.
Or, maybe your kid is growing like a weed and only used a pair of cleats or a baseball glove for one season.
These are all good reasons to donate your sports equipment.
OKLAHOMA CITY – Today, Oklahoma Cleats for Kids announced a collection drive in conjunction with the nonprofit's one year birthday.

"When we started Cleats for Kids, we assumed it would take off, but we really didn't know just how fast," said Stacy McDaniel, co-founder and Executive Director. "As many of us know, sports can be very expensive. We feel that the benefits of team sports – developing healthier lifestyles and building character – are so great for youth, that we're dedicated to finding a way for all Oklahoma kids to be suited up, regardless of their family's financial situation."

WHO: Everyone in OKC and surrounding! "Kid volunteers" will be on hand to help with the collecting.

WHAT: Cleats for Kids will be accepting new and/or gently-used athletic shoes and equipment. The first 100 donations will get a free t-shirt. There will also be birthday cake, marching bands, and more!

WHEN: Saturday, Nov. 10, 2012, 10 a.m. to Noon

WHERE: Public Basketball Courts, Reno & Hudson, Downtown Oklahoma City

WHY: To celebrate the first year of Cleats for Kids! With this event, our goal is to make a visual impact that tells the story of what we do and why we do it.

HOW: Bring any used-yet-wearable kids athletic shoes or equipment and grab some cake. It's that easy!

ABOUT CLEATS FOR KIDS
Founded in 2011, Oklahoma Cleats for Kids (C4K) collects and distributes new and gently-used athletic shoes and equipment to kids in need. Cleats for Kids was founded by Mark and Stacy McDaniel in October 2011. As parents of three children, all whom play sports, they saw, and heard, story after story of kids who could not play without getting help to acquire shoes, clothing and equipment. Since its inception, C4K has distributed more than 2,000 pieces of shoes and equipment. All donations are distributed to Oklahoma kids, free of charge. CFK partners with civic organizations to help kids get active and play sports. For more information, visit www.okcleatsforkids.org.
---
Another mystery of the universe solved.
---
In case you hate shoes, here's some info about events coming up just in time for the Oklahoma City Memorial Marathon:
Backwoods, Inc., today announced world renown ultra-marathoner Jason Robillard's visit to Oklahoma City and an in-store clinic with the athlete Friday, April 27, 2012 from 7p.m. to 9p.m. For this event, Backwoods has partnered with Merrell to bring awareness to the ever growing sport of barefoot and minimalist running. The event will be hands-on, customers will have the opportunity to try Merrell's line of barefoot shoes and participants will have a chance to go on a short run with Robillard and staff. Backwoods' Oklahoma City store is located at 12315 N. May Avenue, Suite 103, Oklahoma City, OK 73120.

"We have seen the level of interest in barefoot and minimalist running grow over the past few years and wanted to offer our customers the chance to meet the expert, as well as hear how to make a safe transition to barefoot running," Jennifer Mull, Backwoods' chief executive officer, said. "We understand how important the outdoors are to this community and we want to make sure we are providing our customers with the information and products they need to enjoy all that this city, and the surrounding areas, have to offer."

Barefoot running consists of running with nothing on the runner's feet while minimalist running means running in shoes that provide limited or no support, only minimal protection.

The clinic at Backwoods will be lead by Jason Robillard, who has over 20 years experience as a barefoot runner and logs nearly 100 miles per week training. Robillard is also founder and director of Barefoot Running University. As a barefoot runner, he has competed 5k, 10k, 15k, half-marathon, 25k, marathon, 50 mile and 100 mile distances barefoot. He is also the author of "The Barefoot Running Book: The Art and Science of Barefoot & Minimalist Shoe Running," a book that outlines how anyone can transition to this style of running.

"We are very excited to have Robillard join us at Backwoods to share his experiences as a barefoot and minimalist runner. There is no one in the industry who can give a stronger narrative on the sport," Tom Adams, general manager, said. "As this sport continues to grow, his expertise will be welcomed by runners here in Oklahoma City and across the state."
---
I've decided that I'm going to save up to by a watch – a real runner's watch. Of course, this means research overdrive. If I'm going to spend $200 or so, I really, really, really want to be sure that it's the best watch for the money. Really, really, really. Really.
I think I've narrowed down my search to this: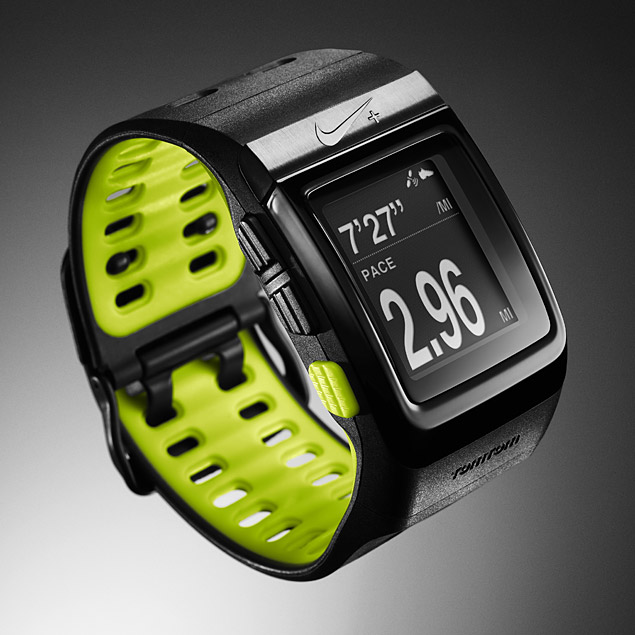 It's the Nike+ SportWatch GPS.
Runner's World gave it a good review, and so did CNET. Like most GPS watches, there are all kinds of cool features. But to me, the best thing about it is the huge numbers on the face. I'm thinking about how most of my runs go – sweating, stumbling, huffing and puffing. With all my flailing about, I can't imagine being coordinated enough to hold my wrist up and examine tiny numbers. I need to be able to hurl my arm up willy-nilly into the air and spot my distance/pace/time/whatever it is you fancy people like to look at on your GPS watches.
I'm mostly excited about being able to track my progress in a very real way. I'm hoping a good watch will help. What are the best watches out there? What do you use?
---
The Oklahoma Medical Research Foundation sent out some great ideas for last-minute gift ideas. If you aren't sure what to get a loved one, why not consider getting something that will improve health? Here are the top five suggestions from OMRF:
A pedometer. For as little as $10 or so, this device will count your steps. If you aim for 10,000 steps a day—about five miles for most people—it's a great tool for maintaining fitness.
Fruit-of-the-month club. With a new batch of fruit arriving each month, those who receive the gift will have a fresh supply of low-calorie, nutrient-dense foods to eat instead of the usual greasy, fried fare.
For new parents: a jogging stroller. This gift will help get new parents out of the house and back into shape. As an added benefit, the gentle jostling and the rush of air can help put some babies to sleep—a much-needed respite for the parents.
For kids: backyard toys. Exercise isn't just for parents. "Whether it's something big like a jungle gym or small like a soccer ball or a croquet set, outdoor toys give children a reason to go outside and play," said OMRF President Stephen Prescott, M.D. "If they make physical activity a regular part of their lives, they're more likely to stay fit even after they've outgrown the toys."
For anybody: Born to Run, by Christopher McDougall. This tale about a lost tribe of Mexican endurance athletes started the "barefoot revolution" that's swept the world of running. And even if the folks on your holiday list don't run, they'll learn from and enjoy a book that's part travelogue, part evolutionary biology text and part epic sports story.
---
This summer, my mom bought me a jogging stroller so I could take my little girl out on runs with me. Well, it turned out to be the hottest summer this side of Hell. I haven't taken my daughter out really at all. I took her on a walk here and there, but this weekend I finally took her on a run.
My training schedule called for five miles. At my pace, that's about a 12-hour run. Or maybe it just feels like it. Mia and I headed down to the trails at the Oklahoma River for our big outing. I stashed a book, a music toy and a stuffed cow in the storage mesh under her seat just in case she needed a distraction.
Lucky me: she didn't need any kind of distraction. She watched everything with wide eyes. She pointed at the river and the egrets wading in the shallow water. She saw birds flit from tree to tree. She watched grasshoppers bounce across the trail and into the grass.
Until mile four. Then, she was done.
Mia isn't a whiner or a crier, but I could tell she was ready to go when she tossed her sunglasses over the side of her stroller.
I cut my run a mile short, but it was so fun taking her out. I'm sure I'll drag her along in the future. On my short runs.
---