Archive for
If you plan to run in the Oklahoma City Memorial Marathon (or the half marathon, five-man relay, 5k or kids events), you might want to go ahead and register. The prices go up Monday for all the events except the kids marathon. The price doesn't go up again until April, so sign up and save a little cash.
 
 

Thru Dec. 1, 2011

 
 

Dec. 2, 2011 – Jan. 1, 2012

 
 Jan. 2 -
April 1, 2012
 
 

After April 1, 2012

At Expo

Marathon
$80.00
 
$95.00
 
$110.00
 
$120.00
 
$130.00
Half-Marathon
$60.00
 
$65.00
 
$80.00
 
$90.00
 
$100.00
5-Person Relay
$225.00
 
$250.00
 
$275.00
 
$300.00
 
$325.00
Memorial 5K (Adult)
$30.00
 
$35.00
 
$40.00
 
$45.00
 
$50.00
Memorial 5K (Age 12 and Under)
$15.00
 
$20.00
 
$25.00
 
$30.00
 
$35.00
Kid's Marathon (Adult)
$20.00
 
$20.00
 
$20.00
 
$20.00
 
$20.00
Kid's Marathon (Kid)
$10.00
 
$10.00
 
$10.00
 
$10.00
 
$10.00
---
I've decided that I'm going to save up to by a watch – a real runner's watch. Of course, this means research overdrive. If I'm going to spend $200 or so, I really, really, really want to be sure that it's the best watch for the money. Really, really, really. Really.
I think I've narrowed down my search to this: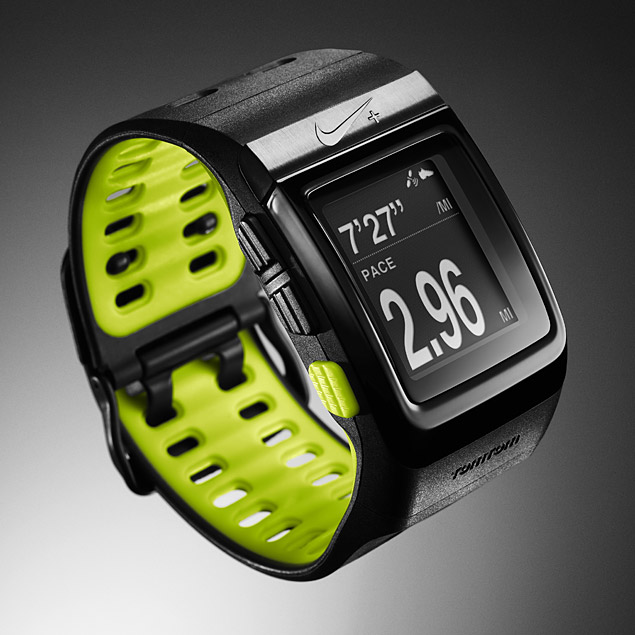 It's the Nike+ SportWatch GPS.
Runner's World gave it a good review, and so did CNET. Like most GPS watches, there are all kinds of cool features. But to me, the best thing about it is the huge numbers on the face. I'm thinking about how most of my runs go – sweating, stumbling, huffing and puffing. With all my flailing about, I can't imagine being coordinated enough to hold my wrist up and examine tiny numbers. I need to be able to hurl my arm up willy-nilly into the air and spot my distance/pace/time/whatever it is you fancy people like to look at on your GPS watches.
I'm mostly excited about being able to track my progress in a very real way. I'm hoping a good watch will help. What are the best watches out there? What do you use?
---
OK. I'll admit it.
I've cried while running.
More than once.
And let me just say, it's even harder to run while crying than it is to just run. So about 10 minutes into a really great run this morning, I had to walk because I was crying my face off about this story. The holidays make me even more emotional than I already am. This is why I should probably run outside and not on the treadmill. There aren't special holiday stories playing on Good Morning America on the gym televisions.
I can't embed the video, so you'll have to click the link to watch it. Please don't watch it while running.
---
The Oklahoma Medical Research Foundation sent out some great ideas for last-minute gift ideas. If you aren't sure what to get a loved one, why not consider getting something that will improve health? Here are the top five suggestions from OMRF:
A pedometer. For as little as $10 or so, this device will count your steps. If you aim for 10,000 steps a day—about five miles for most people—it's a great tool for maintaining fitness.
Fruit-of-the-month club. With a new batch of fruit arriving each month, those who receive the gift will have a fresh supply of low-calorie, nutrient-dense foods to eat instead of the usual greasy, fried fare.
For new parents: a jogging stroller. This gift will help get new parents out of the house and back into shape. As an added benefit, the gentle jostling and the rush of air can help put some babies to sleep—a much-needed respite for the parents.
For kids: backyard toys. Exercise isn't just for parents. "Whether it's something big like a jungle gym or small like a soccer ball or a croquet set, outdoor toys give children a reason to go outside and play," said OMRF President Stephen Prescott, M.D. "If they make physical activity a regular part of their lives, they're more likely to stay fit even after they've outgrown the toys."
For anybody: Born to Run, by Christopher McDougall. This tale about a lost tribe of Mexican endurance athletes started the "barefoot revolution" that's swept the world of running. And even if the folks on your holiday list don't run, they'll learn from and enjoy a book that's part travelogue, part evolutionary biology text and part epic sports story.
---
I ran last night because it's the only thing that made any sense.
Our friend, Sarah Soles, passed away Tuesday night. She was only 33. It was a shock to say the least. My husband met her two years ago, and I was lucky enough to get to know her, too. She was super smart and so involved in the community, namely with the Oklahoma City Philharmonic. She had so many great qualities, but my favorite was her encouraging nature. If she knew you, she knew about your family, your job, your passions. She always offered words of encouragement to my husband and me with our charity work. She always gave us advice and praised.
She was the kind of person who made you believe in yourself because she believed in you so much.
My husband called me while I was out of the office to tell me that Sarah had passed. I was in such shock. My first reaction was that the doctors should try something drastic to save her, as if it wasn't already too late. My brain couldn't understand that she was gone. I still don't think I can. It doesn't make any sense. We saw her two weeks ago at a Christmas party, and she was her usual cheerful, snarky, encouraging self. We took this photo together:
I kicked myself for taking a goofy photo. We should have take a photo together – smiling and having fun. Why did we waste that moment? Why is Sarah gone? Why her? What so young? Why now? Why this? Why would someone be taken out of this world when she made this world better every day?
My mind was a cacophony of whys. I couldn't think and I couldn't understand. I needed to clear my head and I needed answers. I left work, went home and put on my running clothes.
It wasn't my fastest time. It wasn't my longest distance. But it made the most sense of any run I've been on. My legs hurt and I kept going. I thought of Sarah – every time I saw her, she encouraged me in my writing and my volunteer work. She was so positive. She was so cheerful. I knew she would be encouraging me while I was running though my neighborhood.
All the why questions were still unanswered when I got back, but it was the best run I've had. I ran last night because Sarah couldn't. I hope she would be proud of me.
---