The Affordable Care Act will be the topic of discussion next week during a panel at the University of Oklahoma. The discussion is titled "Preparing for Health Care Reform after the Supreme Court Decision."
Panelists include:
Gary Raskob, OU College of Public Health dean
Dr. Robert Roswell, Senior Associate Dean & Professor, OU College of Medicine
Val Schott, Chief Executive Officer, Oklahoma Health Information Exchange Trust
The panel will start at noon Wednesday at the OU College of Public Health, 801 NE 13th St., in room 150.
In case you would like to do a little homework beforehand, you could read the Supreme Court decision on the law. Or you could read the entire law here: Affordable Care Act, Section by Section.
I'm going to venture to guess you don't have time to read hundreds of pages of policy, so I would recommend visiting FactCheck.org's site and reading up on some of its articles about health care. To find out more about health care reform specific to Oklahoma, visit our health care coverage page.
Actress Diane Keaton will be the keynote speaker at the 26th annual Women's Health Forum in Oklahoma City.
Keaton will speak Sept. 9 at 5 p.m. at the Civic Center Music Hall at 201 N. Walker Ave.
Reservations are required for this free event. You can make reservations by calling the Integris HealthLine at 405-951-2277 or toll free at 888-951-2277. Or you can register online at www.integrisOK.com.
Keaton will "reveal how to be fearless in life at this year's Integris Women's Health Forum," according to a news release.
And because it's Friday, a little reminder of a great Diane Keaton performance:
McDonald's recently launched its "Favorites Under 400" campaign, advertising menu items that are 400 calories or less.
Although I am happy to see a fast-food chain jumping on the nutritious food bandwagon, I think its approach is halfhearted.
The items on its "Favorites Under 400″ menu include the Filet-O-Fish, French fries and a Premium Grilled Chicken Classic Sandwich (that you can see the mayo dripping off).
According to this article from The Chicago Tribune, the campaign was timed to roll out at the same time as the 2012 London Olympics:
"We've been looking at new ways we can provide easy-to-find and easy-to-understand, simple nutrition information," said Neil Golden, McDonald's USA chief marketing officer. "We're always looking to evolve."

Boards will be organized by calorie counts, segmenting items in calorie blocks. That means, for example, that under the heading 400 calories or less, consumers will see such items as medium fries, Filet-O-Fish sandwich and an Oreo McFlurry. For 300 calories or less, consumers can order a Southwest Salad or Strawberry Banana Real Fruit Smoothie.

"We want customers to understand that they have food that they love, but food that they can feel good about enjoying regularly," Golden said.
Food that they can feel good about enjoying regularly? I'm not a dietitian, but — You know what else is under 400 calories?
A Snickers bar: 280 calories
My favorite Dunkin Donuts treat — the blueberry cake doughnut: 340 calories
Nine pieces of bacon:369 calories
None of these things are particularly healthy — but they're under 400 calories. (As an aside, bacon in moderation can be your friend).
Call me harsh, but I have little patience for this type of marketing. I won't pretend it's easy to find a healthy meal when you're in a hurry.
Here are a few suggestions for living life on the go:
- Ask yourself if you're near a grocery store. Fruit and vegetables are generally easy to transport, and you can get in and out of the grocery store pretty quickly. Especially during summer, you can find berries on sale, and they usually come in plastic containers that make them easy to transport. If you can't find an affordable berry, try an apple or banana. One apple or banana will generally be less than $1.
- Skip the fries. Yes, a version of McDonald's fries is less than 400 calories. And I won't pretend they're not delicious. But a side salad is going to make your body happier. When you get a salad, check the nutrition facts on the salad dressing. It could be loaded with calories and fat and end up defeating the purpose of getting a salad. Instead of pouring the dressing, try simply dipping your fork in the dressing. It will be good. Promise.
- Ziplock bags and plastic containers are your friends. These are generally inexpensive at the grocery store and make it easy to transport food when you're in a hurry. On a Sunday, try to plan out your week. Ask yourself if there's a time when you might find yourself in your car and hungry. Try to plan for that.
- Let's say you and your family are hungry, and you're low on cash. It's time to ask the Internet. Go to your favorite search engine, and search for something like "Healthy and cheap meals." You'll find a wealth of information. There are several blogs and websites dedicated to providing healthy and inexpensive food ideas. Here are a few:
Feel free to share your ideas on how to eat healthy and cheap. I am always looking for a good recipe and ways to avoid falling into the "I'm starving and surrounded by fast food restaurants" trap.
A few months ago, I wrote a story about Brantley Jacobs, a baby that has been diagnosed with a rare disease known as Klippel-Trenaunay syndrome.
I spoke with Brantley's dad David Jacobs today. Doctors have recommended waiting to amputate Brantley's leg until he turns 1. This is what the family plans to do so far.
David's hope is that Brantley can learn to walk with a prosthetic limb. If the family chose to not amputate the leg, they've been told Brantley would not be able to walk.
The family went to Children's Hospital Boston a few months ago for a second opinion. Meanwhile, a children's hospital in Dallas approached the Jacobses about Brantley's case. The family plans to go there next week. If the Dallas hospital works out, this is where Brantley will have his operation. It's a much easier trip than going to Boston.
David Jacobs said he just wants what's best for his son. He and his wife continue to receive both positive and negative feedback. Some people question whether they should have went through with the pregnancy.
"My response to that is — it's a leg," David Jacobs said today. "If you're pregnant and the ultrasound shows your baby is going to be missing two fingers, do you abort the baby?"
Brantley is now 7 months old and developing well. He is learning to sit up and trying to roll over. He is off most of his medication. The only medicine he is taking is for pain when one of his leg sores breaks.
"Other than that, he's a normal baby," David Jacobs said. "He has started laughing. He smiles all the time."
Growing up in southeast Oklahoma, ticks were a part of life. Every summer, I usually found a few ticks somewhere on my body. And I usually pulled them off and went about my day.
I grew up unaware that many, many people are really terrified of ticks. It wasn't until I went to college and heard friends talking that I realized most people are significantly more fearful of ticks than I am.
I've seen friends post on Facebook in all caps: "I JUST PULLED A TICK OFF, DO I HAVE LYME DISEASE?" I've seen friends panic on Twitter about finding a tick and contemplating whether death was near.
Here are a few examples of reactions that I found on Twitter, Flickr and Facebook:
It looks like Dr. Oz is coming to town.
Dr. Mehmet Oz, known for his daytime medical show, is scheduled as the keynote speaker for the Harold Hamm Diabetes Center gala in Oklahoma City. Oz will speak at the Connect+Cure gala on Oct. 29 at the National Cowboy and Western Heritage Museum in Oklahoma City.
David Boren, the University of Oklahoma president, said in a news release about the event:
"In Oklahoma, the Harold Hamm Diabetes Center is having a significant impact on the international diabetes health crisis through new breakthroughs in research focused on progress toward a cure for the disease, world-class patient care, and large-scale prevention programs. The establishment of this annual event will help us continue the forward momentum. We are pleased that Dr. Oz, who has dedicated his life to improving health care nationally, will be joining us in these efforts."
For more information about the gala, you can visit the Connect+Cure website.
It's the end of the week, and I have a confession. I stopped taking my prescription for issues with heartburn, well, months ago.
But apparently, I'm not alone. More than 30 million Americans take five or more prescription drugs regularly, and many of them stop taking their medication within the first year that they're prescribed.
CVS/pharmacy recently launched a new savings program that they're hoping will encourage folks to  continue to fill their prescriptions.
Oklahoma City was selected as one of the cities that CVS is testing out its Pharmacy ExtraBucks Rewards program. Other cities include Charlotte, N.C.; Cleveland and Columbus in Ohio; Minneapolis and St. Paul in Minnesota; and Portland and Auburn, Maine.
Customers can earn $5 in CVS money, or ExtraBucks Rewards, for every five prescriptions they fill. You can earn up to $50 Pharmacy ExtraBucks Rewards every year.
In the press release, CVS reports that "more than 3 of 4 people stop taking their medication within the first year of therapy." I find that curious and fascinating.
Why do so many of us stop taking our prescriptions? Consumer Reports wrote an interesting report on why people do and don't take their medication:
Doctors and drug companies (who have a large financial stake in the matter) have been trying to tackle the problem for decades. But studies show little progress. The consensus now is that it is a much more complex problem than previously appreciated, having to do mostly with hard-to-change human behaviors and fear of, or the experience of, medication side effects. Money also plays a big role: millions of people everyday are unable to take their
medicines as directed because they simply can't afford them.
You can read more of the report by clicking here. For me, I stopped taking my prescription because I wanted to try other things to control my heartburn. And those things have worked, for the most part, so I didn't feel it necessary to take a prescription drug to treat the problem.
I do want to make it clear, though — I'm not a doctor, and I don't suggest you stop taking your prescriptions. Rather, I suggest you talk thoroughly with your doctor about prescriptions. You are your own advocate, especially when it comes to your health.
I would be curious to hear from others who have stopped taking their prescriptions. Was it because of money? Did you not like the side effects? What caused you to stop filling your prescription?
The Associated Press recently reported about Colorado cantaloupe farmers who are working together to help the fruit's public image after a listeria outbreak last year.
Farmers near the town of Rocky Ford are going on the offensive to restore the fruit's reputation a year after melons from one of the area's farms caused a nationwide listeria outbreak. They have banded together to trademark Rocky Ford melons and fund $800,000 worth of safety upgrades to prevent future outbreaks, but they must convince buyers that the melons are safe.
During the listeria outbreak, there were 146 cases of listeria, 30 deaths and one miscarriage reported to the CDC. In Oklahoma, there was one death reported. Here's a  state-by-state breakdown:
This editorial from a Colorado newspaper outlines the precautions that some growers in Colorado have taken to prevent another listeria outbreak.
It will be interesting to see how long it takes people to warm up to the idea of cantaloupe again. Recently, I brought some cantaloupe to work for a breakfast potluck. Barely anyone touched it. I mentioned it to a coworker, and he said, "Yeah, I'm just really freaked out about listeria."
Are you still cautious about eating cantaloupe? Let me know. I would love to hear from you.
State health officials are warning Oklahomans that risk for West Nile virus this year could be pretty high.
So far this summer, two Oklahomans have contracted West Nile virus, one man in Tulsa County and another man in Pittsburg County. Last year, there was only one reported case of West Nile virus in Oklahoma.
Here are some precautions that you could take to avoid mosquitoes:
Never go outside. Ever.
Carry a light saber. It will serve as your very own personal bug zapper.
Cover yourself in plastic wrap, preferably either the pink or blue, for fashion's sake.
Hire a few people to serve as your personal mosquito swatters. Arm them with at least three fly swatters each. And pay them on commission.
Disguise yourself as a giant mosquito. It probably won't deter mosquitoes, but you'll probably have a blast in it.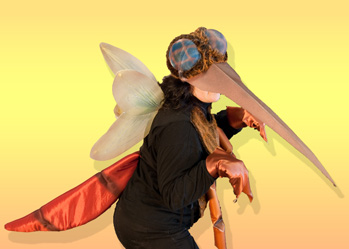 In all seriousness — West Nile virus is a real concern, and you should take a moment to read these precautions from the Oklahoma State Department of Health to avoid mosquito bites:
Use an insect repellent containing DEET on exposed skin and clothing when you go outdoors, particularly if you are outside between dusk and dawn when mosquitoes are more likely to bite. (Insect repellent with permethrin should be used on clothing only.)
Repair or install window and door screens to keep mosquitoes out of your home.
Prevent items such as buckets, cans, pool covers, flower pots, and tires from holding standing water so mosquitoes don't have a place to breed.
Empty your pet's outdoor water bowl and refill daily.
Clean leaves and debris from rain gutters regularly to ensure they are not clogged.
Two years ago, I was filming my family's fireworks show when things took a turn for the worse:
I suffered second-degree burns. In hindsight, I probably should have been farther back, but the journalist in me, of course, had to document our holiday experience.
My parents live in rural Oklahoma, and every year, we have a large fireworks display.
This year was no different. This past weekend, our neighbors came over, and a grand time was had by all. And, in case you're curious, no camerawomen were harmed.
In an effort to ensure that you and your family and friends all have a great Fourth of July, here are some safety tips from the National Council on Fireworks Safety:
Always read and follow label directions.
Have an adult present.
Buy from reliable sellers.
Use outdoors only.
Always have water handy (a garden hose and a bucket).
Never experiment or make your own fireworks.
Light only one firework at a time.
Never re-light a "dud" firework (wait 15 to 20 minutes and then soak it in a bucket of water).
Never give fireworks to small children.
If necessary, store fireworks in a cool, dry place.
Dispose of fireworks properly by soaking them in water and then disposing of them in your trashcan.
Never throw or point fireworks at other people.
Never carry fireworks in your pocket.
Never shoot fireworks in metal or glass containers.
The shooter should always wear eye protection and never have any part of the body over the firework.
Stay away from illegal explosives.
I hope you have a great Fourth and don't end up with any embarrassing videos (or scars) that your family will remember the rest of your life.