One of the biggest debates at the Oklahoma Capitol right now is whether the state will pass a law allowing cities to pass their own smoking laws.
Health advocates, including Gov. Mary Fallin, argue that passing this law would have a major impact on the state's health. They also argue that only Oklahoma and Tennessee have this type of restrictive law on the books regarding cities and smoking ordinances.
Opponents say that cities passing their own smoking laws would be confusing to business owners and also would trample on individual rights. Others voice concerns that a smoking ban could have a negative impact on business.
I'm not here to argue who's right. I'll leave that to, well, non-journalists. However, I was curious about other states that have made similar efforts. So, here's a list of five states that have recently gone "smoke-free" in some regard.
1. North Dakota
North Dakota is the 28th smokefree state in the U.S. through approval of a ballot initiative in November. North Dakota went smoke free through the same type of effort Gov. Fallin proposed yesterday. Fallin proposed the ballot initiative after lawmakers refused to hear Senate Bill 36, which would have allowed cities to pass their own smoking ordinances.
In North Dakota, you cannot smoke in all public buildings, including restaurants, bars, places of business, hotels, health care facilities, tobacco stores, workplace vehicles and taxis.
In one news story, a few bar owners discussed the potential impact of the ban:
Anderson said business might slow down initially but then pick up once nonsmokers start coming more often. When Bismarck passed a citywide smoking ban, Anderson didn't see an increased number of patrons.

Now that the ban has passed, Anderson will have the carpet replaced and minor remodeling done.

"We were going to do it last summer and then we said, 'Let's wait and see what happens with this smoking ban,'" she said.
2. Wisconsin
Beginning July 5, 2010, smoking in Wisconsin became generally prohibited in public places and workplaces, regardless of whether they were publicly or privately owned. This includes including bars and restaurants.
Before the law passed, bar owners worried the law would hurt business. Two years later, there's a mixed review on what impact the law has had on bar business.
A study through the University of Wisconsin researched bartenders and found that "this policy will help reduce the future risk of disease related to secondhand smoke among employees and patrons of bars and restaurants throughout the state."
3. Indiana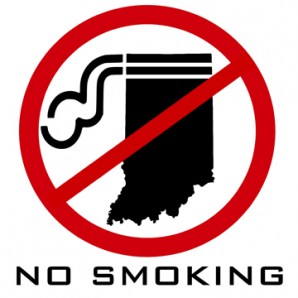 Indiana's smoking law went into effect in July. Unlike Wisconsin and North Dakota, Indiana's smoking law does not ban smoking in bars.
Rather, in Indiana, you can smoke in a "horse-racing facility, a riverboat, a facilitywith a gambling game license, a satellite-gaming facility, cigar bars, hookah bars, certain fraternal clubs, a retail-tobacco store, a bar or tavern meeting certain requirements, a cigar-manufacturing facility, a cigar-specialty store, a business in a private residence…"
There's a current discussion in Indiana to extend the ban to bars, but that doesn't look likely to happen.
4. Michigan
Starting in May 2010, smoking was banned in Michigan in most public places.
The law will cover any workplace and any food service establishment. A workplace is a site employing at least one person. A food service establishment is any place with a license to serve food or beverages. This law covers public places, including, but not limited to, restaurants, bars, shopping malls, bowling alleys, concert halls, arenas, museums, mechanic shops, health facilities, nursing homes, education facilities, and child carecenters.
After the law passed, a bar owner challenged the constitutionality of the smoking ban on the grounds that it unfairly provides advantages to casinos and has illegally cut into his profits.
Meanwhile, a study through the University of Michigan found that, after two years, the smoking ban had "no significant negative impact on bars and restaurants." The study was commissioned by the state of Michigan.
5. Kansas
Under the Kansas smoking ban, which became effective July 1, 2010, you cannot smoke in the following places:
Public places
Places of employment
Restaurants
Bars
Taxicabs and limousines
Lobbies, hallways and other common areas in apartment buildings and other multiple-residential facilities
Restrooms, lobbies and other common areas in hotels and motels
Within 10 feet of any doorway, open window or air intake where smoking is prohibited
In January, the Kansas Health Institute argued that "there is no apparent evidence that smoking bans in Kansas have been associated with a decrease in statewide restaurant and bar sales, or with a decrease in the number of establishments serving liquor."
Meanwhile, there has been some movement to exempt bars from the ban.
Categorized under:

Thank you for joining our conversation on NewsOK Health Blog. We encourage your discussion but ask that you stay within the bounds of our commenting and posting policy.